Hi guys
I am sure most you you saw the recent thread that I posted up asking for donations for something that Neil and I are working on -
http://www.starwarsforum.co.uk/viewtopi ... =1&t=31381
This lovely young lady is Bethany and she is the daughter of a good friend of Neils (Jackabina) who I had the privilege of meaning at Celebration
Bethany has been ill from birth, but strangely wasn't diagnosed until she was 10. That's because her illness wasn't known about officially until 2010. She has what is known as a CASK gene. This basically means that since birth, she can't do anything without help. She can't feed herself, go to the loo or even sit up on her own. She is already wheelchair bound, and her life expectancy is limited. She not expected to live many more years.
Her Dad, Dave and his wife would like to make the rest of their little girls life as comfortable as possible. They have just been quoted 7K for a machine, similar to that of Stephen Hawking, in that it will allow to communicate independently. Neil and I would like your help to cover that as much as we possibly can
Dave is a big Star Wars fan as is his lad - I think it would be great if the community can help him out and get this done as quickly as possible
So after an appeal for prizes both on here and the International Page on Facebook then I am please to announce that I have pledges for 40 - yes
40
separate prizes. The response was amazing and it is great to be part of such a generous community.
Now we need the rest of you to dig as deep as you can - as well as a chance to pick up one of these great items you will also be helping out a little girl who really deserves the best that we can provide - I would love the SW Community as a whole to get us most of the way there
To enter, please message either myself (itfciain) or Neil (Jackabina) for Neil's PayPal information - you can send as much as you like (more the better!) and every £5.00 that you donate will get you a 'ticket' for the prize draw. Neil is hoping to arrange a date for him to go down to Bethany's School so that she can do the draw in person - we'll update you as soon as we know when - but in the meantime please donate as much as you can
This is the prize list - postage is covered by the donator or Neil/myself
1.
A Ship Stand of your Choice (Iain)
2.
100 Star Stands - Either 1' or 1.5' (Iain)
3.
Survival Kit Mailer (Iain)
4.
One of TIG's life size Palace Blasters (John Paul Ragusta - TIG)
If you can't wait for the wait for the draw then JP has some left for sale ($89.99 shipped US / $109.99 shipped worldwide) and if anyone wants to buy one he'll donate 100% of the profit to the family as well
5.
Selection of Star Wars Transformers - these come from the lastest consignment to Max Webster Auctions - you can check out all of the up coming auctions here -
http://www.maxwebsterauctioneer.com/
6.
Also from Max we have this Optimus Prime (Max Webster)
7.
MISB Prototype Boba (Mumbo)
8.
2x 6" black series figures, Boxed - Finn and a Clone Trooper + Force Awakens Darth Vader MOC (Neil)
9.
4x 6" loose black series figures. SandTrooper, Kylo Ren, First Order Trooper & Phasma + stands (Neil)
10.
MISB Force Awakens Tie Fighter (Neil)
11.
Issue 1 of the SW comic. Looks great in a frame, but missing the free x-wing gift (Neil)
12.
A small prize for the offering. This was from Nick at FF and was a bit of a consolation prize for me at the time but he doesn't really fit being a Kenner. What's fun is that he has no fewer than 7 price labels (price gun set on fully automatic I guess) and is the cool (I like it) Emperor offer on 65 back card (SLNH)
13.
3 mini jigsaws (rdpla)
14.
Set of posters and millennium falcon / Artoo watch (rdpla)
15.
Boba Fett marmit doll (rdpla)
16.
Set of 7 pepsi sound caps incl luke / darth/ Artoo and c3po plus 3 mystery figures... batteries are probably dead but display well (rdpla)
17.
An artist proof along with an original sketch from the piece by the amazingly talented Sublevel Studios
18.
Two pieces of Star Wars Sigma (Stuart Skinner)
19.
A wall hanger small Yoda in carbonite (Grinchy)
20.
Tiny George Lucas in carbonite deform sculpt and han solo to, perfect for Christmas tree ornaments (Grinchy)
21.
12 inch Leia, no comb and brush, beater box, hair redone by the wonderful Mr Gary Haygood - who is always available to help with you 12' Leia hair needs!
22.
A 'well loved' Nien Numb with nice clear bubble! (Lejackal)
23.
Selection of Cardbacks (Lejackal)
24.
Bantha Tracks Patch + R5 Comic (Lejackal)
25.
44 Figures in C6-C8 condition (Greedole)
26.
A 1997 20th Century Fox Special Edition press Kit for Star Wars trilogy release. Also includes Turbo Power Rangers Adventures
and Others. (Daz DP1973)
27.
A Die Cast Darth Vader tie fighter - it can be removed from bubble but its still pretty cool (Darthgulliver)
28.
ToyMart Price Guide (Bootyhunter)
29.
A set of GW Acrylic ADS-31 4 Tier Steps - boxed and un-used (Anon)
30.
ESB Yoda MOC (Anon)
31.
CE3 swag, a Canadian GM cereal #4 fold out pamphlet, and a complete set of Canadian O-Pee-Chee SW series #2 trading cards (sorry, no stickers) - this is from the team over at the TantiveXI forum (Commander Clint)
32.
EV-9D9 - Both arms come out when pulled but she displays well (Edd)
33.
2 x Cardbacks with Italian Import Stickers (Paul Watts)
34.
AT-ST Driver with crazy big sticker (Dan Burgess - SOJ)
35.
Black Series Obi-Wan Kenobi(Dan Burgess - SOJ)
36.
Mini Rig (Section
- pictures on their way
37.
Luke Poncho Coin (Jez)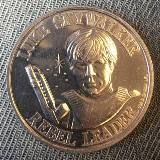 38.
Amazing wood carvings (Frank) - pictures on their way
39.
C3PO Sealed Baggie (Pigcity)
40.
UKG85 Loose Zuckuss (Dr_BallMD)
41.
Fantastic Fett Painting (Michael Sith)