Edd kindly allows me to have this non vintage thread on the primary vintage page. Thank you Ed.

BIG UPDATE!!!
PRIZES UPDATED
GUINNESS WORLD RECORD IN THE BAG
£10,000 target smashed! Now at over £12,500!!
This marks the Running Stormtrooper's retirement from his annual SWFUK Prize Draw.
This is the 4th and final Prize Draw
This prize draw has been designed to add some fun to SWFUK and to stimulate some donations to:
http://WWW.JUSTGIVING.COM/ROGUEONE
OK chaps here it is.
THE BIG ONE
The Running Stormtrooper is back, and running further and harder than ever before!!
Check my Youtube video which explains everything
:
https://youtu.be/wLdcwV2imRs
My Make A Star Wars Wish Facebook page is here
:
https://www.facebook.com/StormtrooperRun/
The SWFUK PRIZE DRAW is OPEN!
For every pound you (SWFUK members) sponsor me between now and May the 14th, you will qualify for a prize draw ticket. Once again, sponsorship can be made at:
http://www.justgiving.com/rogueone
Please do not mention Prize Draw when donating online.
OK, so here are the amazing prizes!!
PRIZE 1
The following screen shot is what the winning person will be in for!!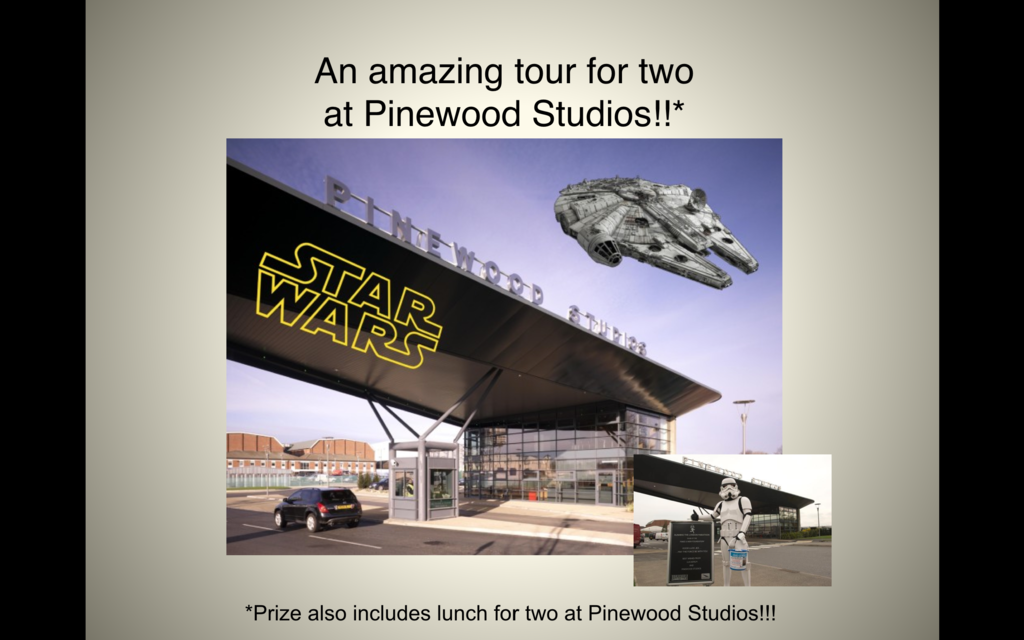 That's right, you and a friend will be hosted at Pinewood Studios, given a tour and a free lunch. Not your usual prize eh??
Please, get sponsoring, get sharing and help us raise £10K for kids like Oliver.
PRIZE 2 Prop Store have kindly donated the following, which has been expertly mounted by our very own Andy G. This is bloody amazing! A stunning piece
You lucky, lucky buggers!! EDIT: I NOW HAVE THIS AT HOME. IT'S BLOODY AWESOME!!!!
PRIZE 3 Mumbo has blown me away with a very generous prize donation #50 credit, which can be spent with our very own Iainitfc, this can be from his online vintage shop or from his stands etc (not GW Acrylic)
Lucky Buggers
PRIZE 4 LOM has very kindly offered this fantastic Miscard!! You Lucky Buggers!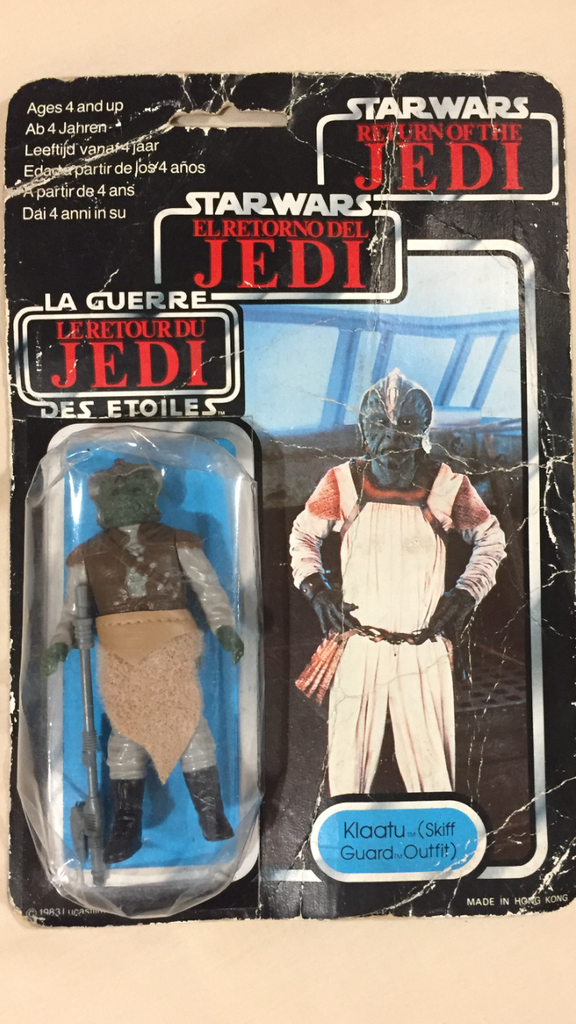 PRIZE 5
SUBLEVEL STUDIOS ARTWORK!!! LIMITED EDITION ROGUE ONE PRINT
Lucky Buggers! Image up soon.
PRIZE 6 Daz has very kindly donated several prizes, the first being this Rogue One Quad Poster, you lucky buggers!!
PRIZE 7 Second of Daz's prizes is the very nice 'Art of Rogue One', you lucky buggers!
PRIZE 8 The 3rd Prize from Daz is the Ralph Portfolio, a must have!
PRIZE 9 Next up is this very nice Star Wars Script book and sweet Romba Coin donated by Booty Hunter!
My brother from another mother Grant, has had a rummage around his collection and has kindly donated the following ensemble:
PRIZE 10 The First Prize being a a 4-LOM Mailer, very nice. Yes a 4-LOM Mailer
PRIZE 11 The second prize being 3 T-shirts, 3 books, and some SW Lego
Top Stuff
PRIZE 12 Lejackal has been a top lad and has donated the following 3 prizes to go to one lucky chap!! Seriously cool. You lucky buggers.
PRIZE 13 Scruffy Looking Nerfyouknowwhat has been a good lad and has donated a set of 12 1983 vintage ROTJ badges. These are very cool.
PRIZE 14 Scruffy Duffy Do has also donated four unopened vintage Presto Magix, 1983 ROTJ transfer sets. I want to rip these open and relive my childhood
I must resist!!
PRIZE 15 Michael Sith has also kindly donated another fantastic piece of his work.
He is one talented dude
PRIZE 16 Daz is back with one more great prize: Full set of Celebration Swag Magnetic Bottle Openers and Battle of Endor Transfer Set
PRIZE 17 + 18 The Jabba's Court guys have kindly donated 2 x Top Trump packs worth £20 each
PRIZE 19 Rob P Marsh has kindly donated a complete set of 14 Celebration 'first 12 + variants' badges. These are an incredibly tough set of SWAG to find.
PRIZE 20 Mr Shifter has kindly donated the following collection of Swag PLUS other swag not shown including his much loved Tarot Cards
PRIZE 21 and as an additional prize:
PRIZE 22 Todd has also kindly donated this Custom Bootleg, repaired card back, Mac&Cheese Box and Poster
download/file.php?id=28687
Big shout out to the lads on Jabba's Palace Facebook group for kindly offering to donate the profits from their recent Top Trump card & T-Shirt initiatives. STOP PRESS: + At the weekend they donated £1500!!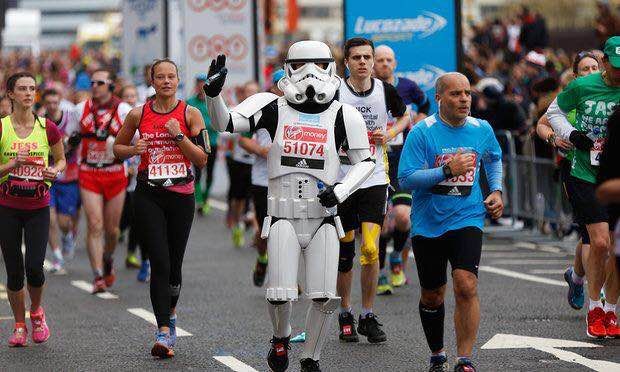 YOU GUYS ARE AMAZING.
Forum members in with a chance of a trip to Pinewood Studios or another awesome prize.
Naughty Jedi
Scott Cato
Matt Fox (MTTBWY)
Mumbo
Cazza
The force UK
wreck it ralph
rob marsh
nicky brown
stu skinner
Simon McOwen
Dan Burgess
steve savory
andrew norton
plastikheld
Phil Wainwright
Andy Preston
section 8
chipsteak
dr ball md
Marc Hockley
dorset mark
rhyfelyser
Jason Smith
Andy Clarke
Lee Simpson
Bootyhunter
Iain Sanderson
Walkie
Matthieu Barthelemy
Richard Hutchinson
James Woolley
Rich200
Rounster
Michael Sith Smith
Chris Mann
Mr Shifter
Craig Spivey
James Cox
_Lee_SWFUK
Laurence Dyer
Edd Jedi
Grant
Cantina Patron
LeJackal
Daz
Jamie Brown
Lom
Seahawks
Ross Barr
Vin3PO
Bobby Bobs
Tie Fighter Boy
Paddy Jedi
IF I'VE MESSED UP AND LEFT YOUR NAME OFF OF THE LIST PLEASE LET ME KNOW ASAP!!
For further viewing,
definitely check out Oliver's story, here
:
https://www.make-a-wish.org.uk/starwars