After the success of the last Collectorabilia we are coming back for more!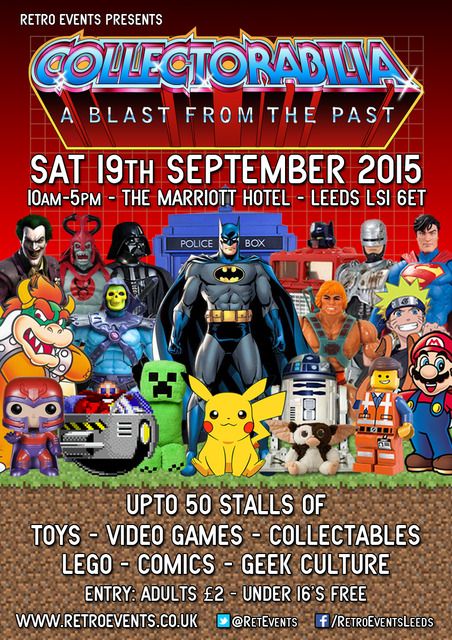 50 tables of Retro Video Games, Consoles, vintage toys, Star Wars, He Man, Comics, Lego, Geek Culture, Pixel Bead Art, Funko Pops, Action Figures, artwork and much more......
We will be joined again by the Sentinel Squad too, so come and get your photos taken with Darth Vader and the gang.
The Date: Saturday 19th September 2015
Opening Times: 10am-5pm
The Venue: Leeds Marriott Hotel, 4 Trevelyan Square, Boar Lane, Leeds, LS1 6ET (2 mins from the train station)
Admission: £2 per adult, Under 16s Free
Check out the Website:  
http://www.retroevents.co.uk/collectorabilia
Join our Facebook groups: 
RETRO EVENTS: 
https://www.facebook.com/RetroEventsLeeds
COLLECTORABILIA: 
https://www.facebook.com/groups/Collectorabilia
Tell us you are coming on the Facebook event page:
https://www.facebook.com/events/1447384632238852/
Follow us on Twitter: 
https://twitter.com/RetEvents
Come along and join in the fun and get some great stuff!
Richard from Echo Base will be there selling too
------