For sale:
Star Wars Episode VII (7) The Force Awakens Crew Jacket XXXL. In excellent condition with detachable hood.
48-50" chest
This belonged to Ian Whyte, an English actor who was Scar in Predator, in Harry Potter, Game of Thrones, Promethious, and various roles in several modern StarWars movies. The letter is what was sent with the items he donated to a charity auction (not included in the sale, I do not own the letter). I bought the jacket in the charity sale.
Ian Whyte, Actor: Brave New World. Born in Bangor, North Wales and raised in Brighton, Ian Whyte was 7'1" tall by the time he he was 17 years old. Ian always stood out from the crowd. Tall, slim and athletic, little did he know of his future career in the limelight however, Ian endured sometimes...
www.imdb.com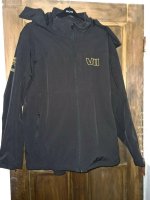 Looking for £95 posted UK
International available at cost (£15-25 extra depending on location)
Payment via PayPal f&f or cover the fees please