Baggies - font variations & miss classed types etc - start yawning now if you are not into baggies
Right this subject is long overdue so about time I got stuck into it as I have been putting it off for a long time as it's a bit of a headache of a subject even if you are into baggies so bear with me as I am sure this is a thread that will see future amendments & additions over the coming years.
Most like to think that all Kenner baggies are pretty much summed up & covered by the excellent SWCA baggies guide, but there are IMO some loose ends/gaps & things which need a closer inspecting.
I will start with the SW-c baggie as it's the easiest of the lot to see whats going on as some of the others have such minor variations it can even be easy to overlook even if you have them in hand side by side which make life real easy you know
Right we all (baggie guys that is) are familiar with the regular SW-c baggie, most well know in the creature Multi - Pack catalog packs which look like this -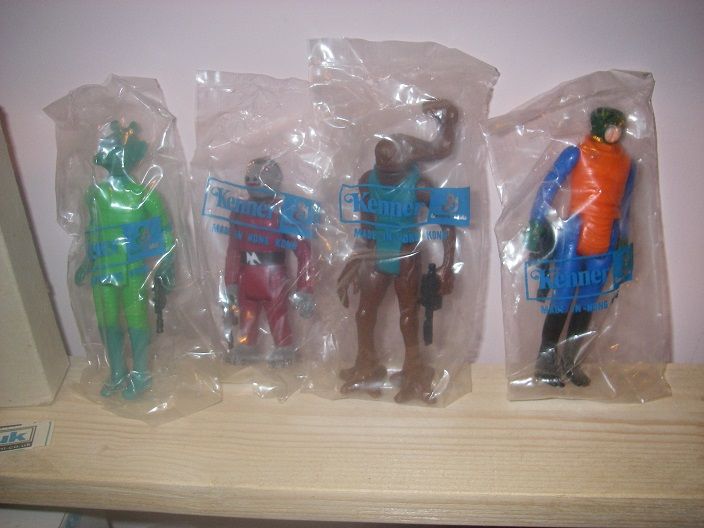 The above as said it the regular SW-c baggie, then there's the reverse logo SW-c also just classed as a SW-c confusing right? considering some other baggies are more identical that these like the ESB-c & d baggies which are identical bar the seals (one heat one taped) but have been worthy of their own class of baggie types, reverse logo SW-c show below -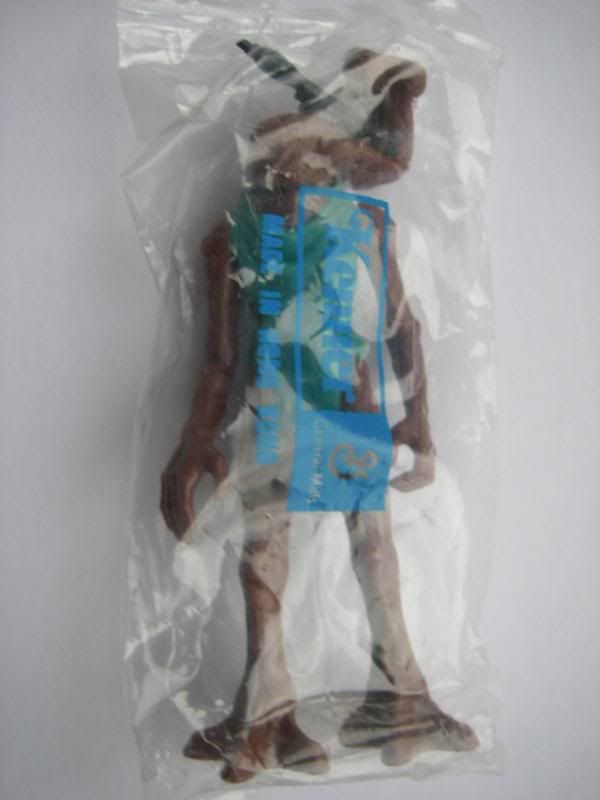 Now this baggie is regarded as a possible production error baggie & presumed to come just from a small run of Canadian issued cantina play-sets, but as you can see the font type is identical as it the baggie type (crisp twin heat sealed) the seals are identical to the regular SW-c, you say open & shut case a production glitch right?, now consider the below -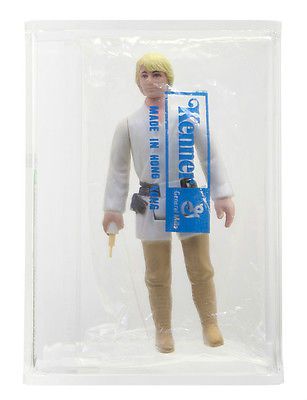 Above is the same in essence as the suspected production error hammerhead but is a know baggie variation again classed as the SW-c baggie, but in my opinion needs to be reclassified, Note the luke can be found in the reverse logo SW-c in both DT & non DT saber variant.
Just to confuse matters a little further there is also a reverse logo GM / Kenner baggie classed as a ESB-e (shown below) it looks pretty much the same with same logo size & colour which is also a twin heat seal baggie, but is of a soft plastic type not like the crisp SW-c's -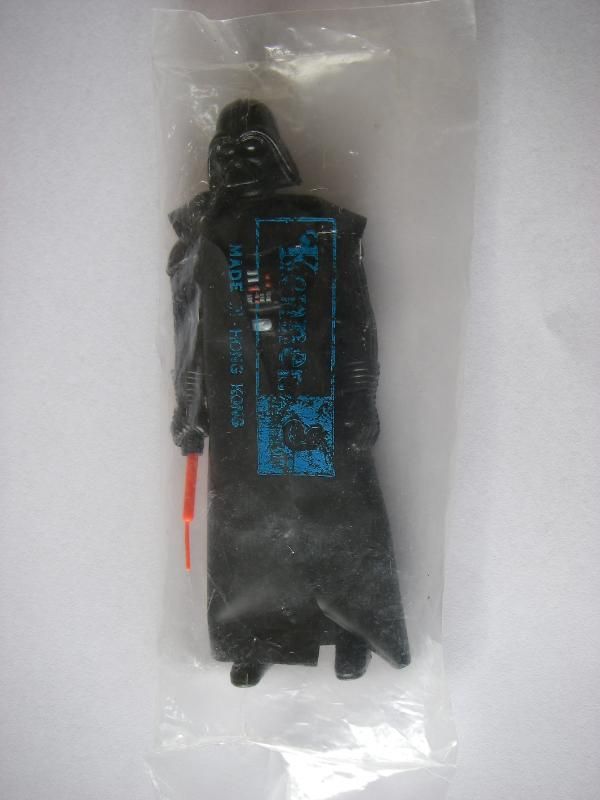 Next up is the ROTJ-j baggie which is a twin heat seal soft baggie with quite small vertical black straight edged text, most commonly the Han trench coat, a few other figures have turned up in the baggie type but are few & far between, not seen any come in MP's (that I know of) so where the origins of this baggie lay I am a little stumped I suspect maybe again a baggie for onward opening for carding, anyway where / what / why aside, there is another baggie which I had till recently mistaken for the ROTJ-j, hell I have even sent one in to be graded as such, as you can see by the photo below & the grading company seems to have thought exactly the same as myself, so I have no doubt that this baggie like a few others I have discussed before & will again below will be mistaken by many -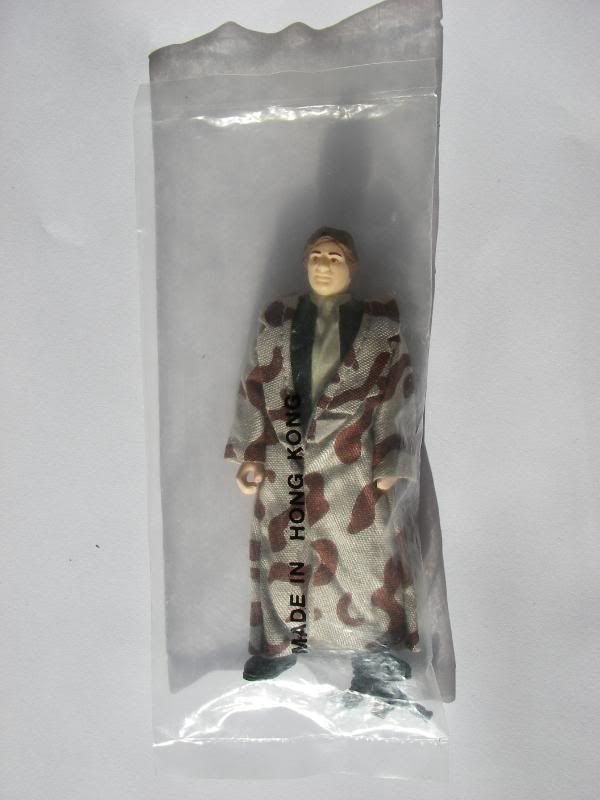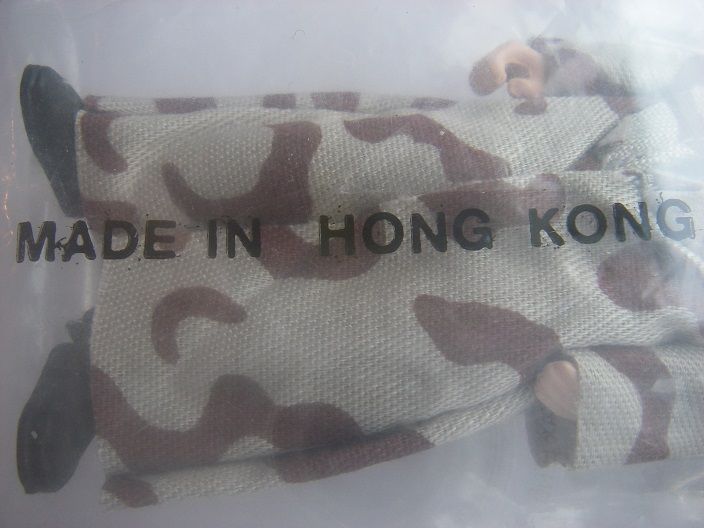 Kenner ROTJ-j example above showing a close up of the font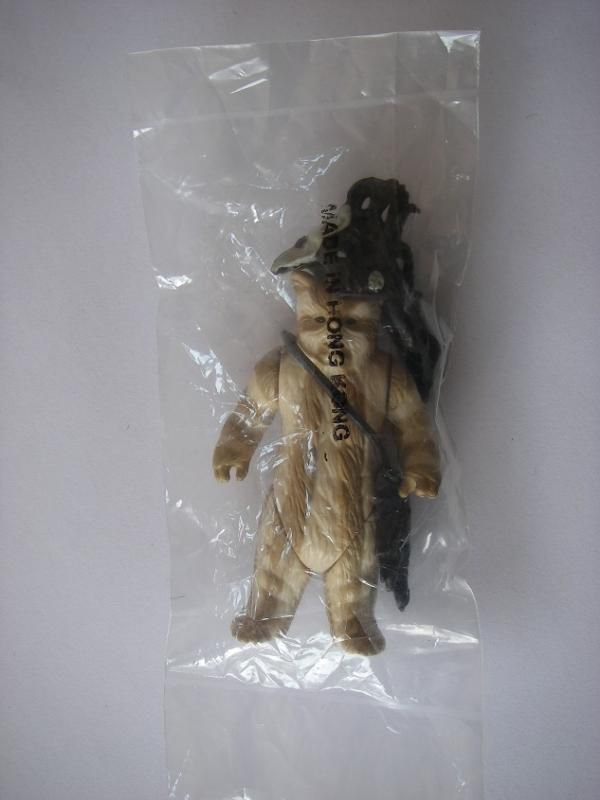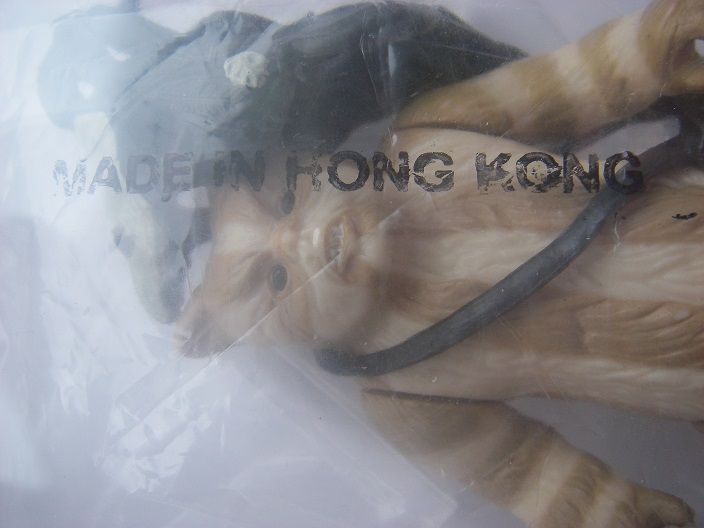 So the above till now classed as a ROTJ-j is in fact not the same baggie at all, hell I have even got this one down in the guide as a ROTJ-j (will amend asap) but as you can see by the heat seals & the font are not exactly the same, slightly more rounded edges to the font & note the bleed out, most notable difference is the actual length of the font, I will measure as best I can as it's in acrylic, judging by other known baggies & font types I must assume this is in fact yet another Palitoy/Euro baggie as they tend to suffer with this bleed out on the font & also the seal types on this are more like palitoy issued baggies & not the same as the regular ROTJ-j, but the material type on both this & the ROTJ-j seem to be identical as is the overall length & width of the baggie hence it being so easily confused which by the way I am it's not just you
We have seen this kind of common mix up before & I have slowly managed to note the subtle differences like with the others below I am including in this thread to try to amalgamate some previous information to make it (I hope) a little easier to find & get your head round.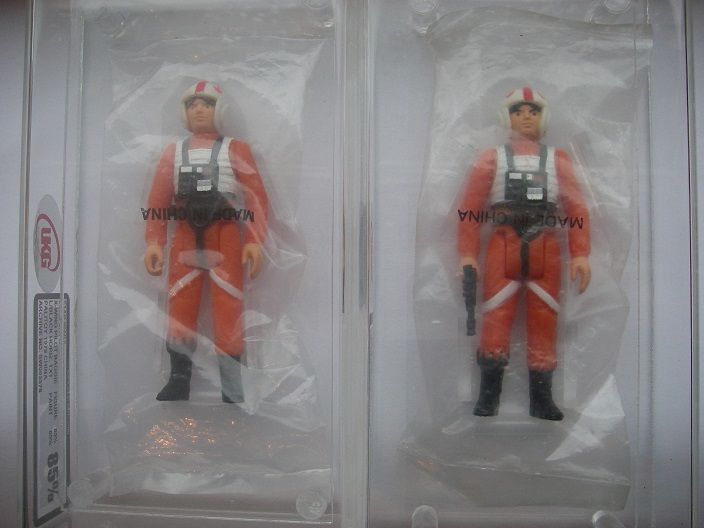 1st other example ROTJ-g (Kenner) VS Palitoy-q above with the Palitoy on the left & kenner on the right, close ups below of both -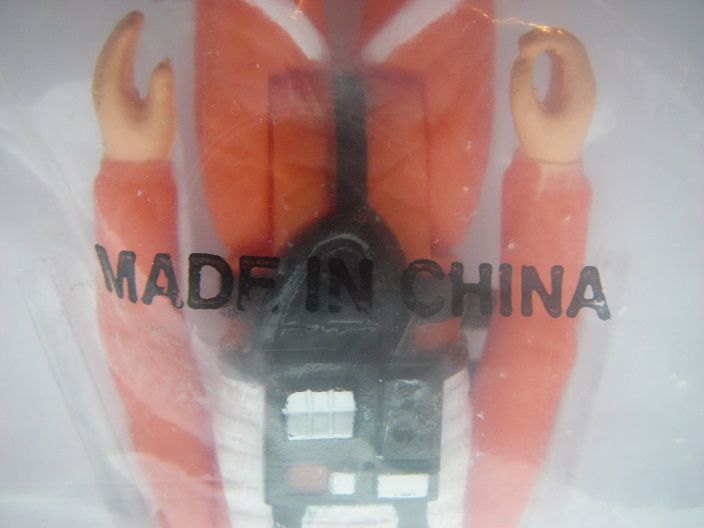 Palitoy-q
ROTJ-g
There are many others, like the SW-b Palitoy-k & don't even get me started on palitoy-p Vs Palitoy-k & SW-b Vs Palitoy-o if you want to hurt your head a little more have a look at these 2 older threads where I started covering this kind of thing in the first & discussed the huge variations in the ever popular ESB-h baggies -
http://www.starwarsforum.co.uk/viewtopi ... 18#p184118
http://www.starwarsforum.co.uk/viewtopi ... 16&t=13371
I am convinced there are more of these subtle variations I have not spotted leading to further baggie classifications & re-classifications, coupled with new baggie types even now still being identified & subsiquently classified, just yesterday on the baggie group one of the members on here posted a baggie he has which is the same as one I have which I had put down to possible ageing & discoloration issues, but no he has one exactly the same, it's even the same figure with same heat seals / material type etc, so another baggie to put a label on.
Additional 11/7/16 -
Speaking of adding other baggies, it hit me last night about this one, the ESB-a baggie, now I collect Multi Packs & have been hunting a few baggies, scored one a while back the seller was quite adamant about being the correct type for the MP's, but when it turned up, it was not sadly, but this is another one of these minor variations that is so hard to spot without seeing them in hand it is a total pain in the arse to know you are getting what you think you are before seeing them in hand.
There are 2 versions of the ESB-a baggie, considered both legit (but I have some doubts if only minorthough not sure why with the evidence at hand) as the baggie material & seal types seem to match almost perfectly so just maybe slightly thicker baggie material & I do mean slight.
The first wave have slightly lighter ink for the font which is not as bold & the big giveaway is the broader of the Kenner logo box, note the secondary outer rectangle round the logo, the spacing on the later issue is further out leaving a subsequent gap between the inner & outer rectangle, so I am 99% convinced they are indeed genuine but as said early & later issue, so ideally should be re-classed as ESB-a 1 ESB-a 2 or something like that as ESB-a eraly issue & ESB-a Later issue or ESB-a 1st / ESB-a 2nd is a bit of a mouth full - thoughts on that please!!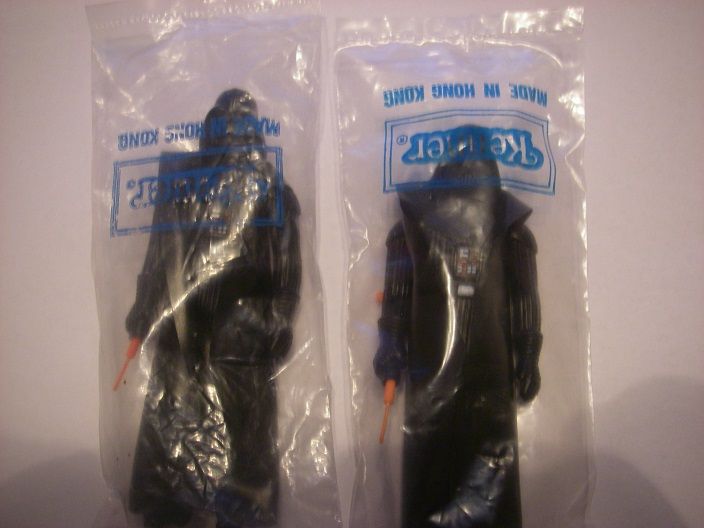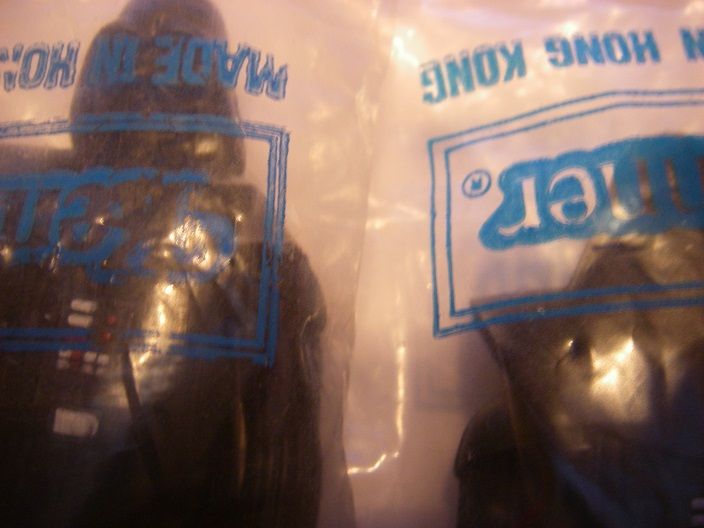 Above you see both issues side by side with the later 2nd issue on the right, which when looked at side by side is easy enough to spot.
Notably the hundreds of Prune face baggies in the ESB-a are 2nd issue as are the POTF figures found in the 2nd issue Jabba's dungeon play-set (examples shown below) whereas all the earlier issue MP's come with the 1st issue ESB-a a prime example being the 15 figure MP, so it begs the question -
If earlier issued figures came in these baggies (1st issue), where are all these early issue figures popping up from in the 2nd issue type?? are they legit or are we all having the wool pulled over our eye's by someone more talented at deception than either Billy or Toy Toi - scary thought eh