Please bear in mind that the below
rough guide
is all
my opinion only
& put together from many years of cross referencing the baggies I have added to my own collection & had the opportunity to inspect closely.
All are Heat Sealed unless otherwise stated.
PLEASE NOTE VERY IMPORTANT - ALL BAGGIE DESIGNATIONS (BAGGIE TYPES) ARE LISTED
ABOVE
THE IMAGE ON THIS SUB GUIDE RATHER THAN BELOW LIKE THEY ARE ON THE MAIN GUIDE, yes a huge oversight on my part, but trying to edit it is now pretty much impossible due to no photos showing when editing, just code & text.
Pali
toy
-a (Tape sealed) small light blue horizontal text/font - Crisp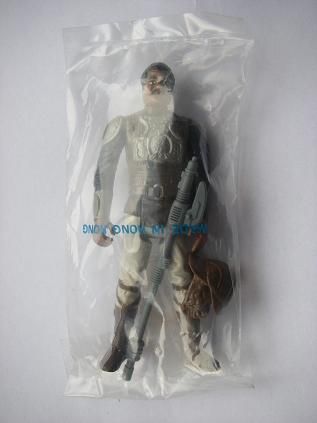 Pali
toy
-b - small light blue Horizontal text/font – Crisp (Heat sealed)
Pali
toy
-c - Dark Blue or Purple Horizontal text/font – Soft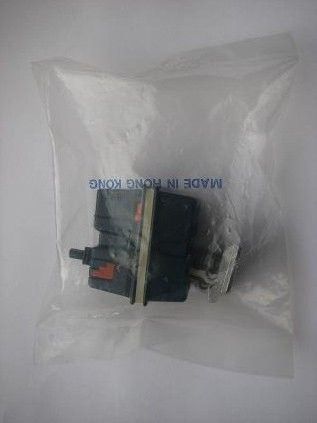 Pali
toy
-d RECLASSIFICATION DUE TO NEW EVIDENCE 10/9/15, Different baggie type now allocated as Palitoy-d after discovering that the Palitoy-k baggie (below) was in fact produced through the full life of the toy line rather than just in the SW wars era, so the previously thought to be Palitoy-d (Black sharp edge thin font large letters), is in fact a Palitoy-k - sorry I know this reshuffles things a bit, but hey ho, this is how we learn - from experience & doing our homework, funny how finding one little missing link can throw things out so much, but it started a deductive line of reasoning which has led me to the point of having to reclassify this one, previous image at bottom of page to try to maintain the flow.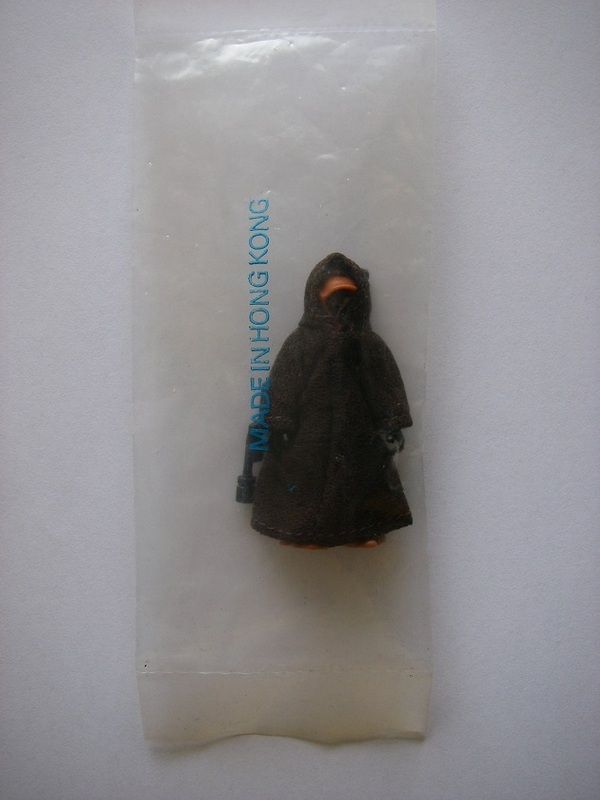 Pali
toy
-e – (Tape Sealed) Black Horizontal Text/font – Soft
Pali
toy
-f – No Text – Soft -
Sorry I do not have a better photo of this as its the only one I have & its sealed in a woolies 8 pack
-
If anyone does have a photo available of one it would be appreciated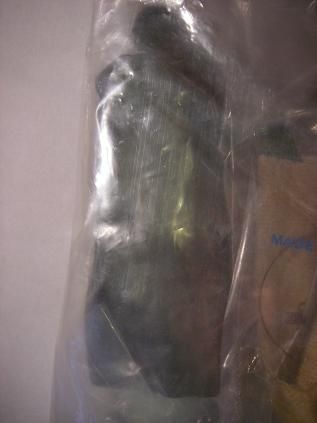 Pali
toy
-g – (Tape sealed) Green Horizontal text/font - Crisp
Pali
toy
-h – Small Light Blue Horizontal Text/Font – Soft
Pali
toy
-i – (Tape Sealed) Small Light Blue Horizontal Font (same Text font as Palitoy a) but soft baggie -
I will get a photo done of the side with the font on soon as I get this one back from UKG
Pali
toy
-j – Palitoy/Parker/Bradgate in blue box with small light blue Made in Hong Kong Horizontal text/font below – crisp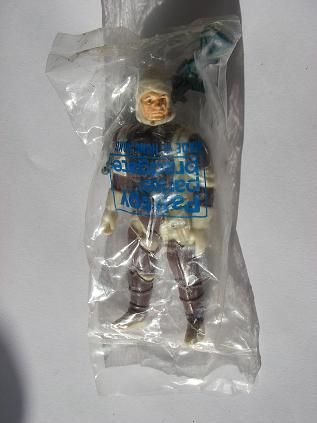 NOT the
Pali
toy
-k
–
(REVISION 07/-4/14)
Very
Small Blue Vertical text/font – Crisp - EDIT: May in fact be a Kenner SW-e but with Vertical text - still researching this. RE EDIT 07/04/14 THIS HAS NOW BEEN CONFIRMED TO BE A SW-e baggie, the confusion was that all 3 other know SW-e's came with horizontal rather than vertical text which may I add is very odd indeed & no ideah why this should have been??, anyway the new Palitoy-k baggie class below the hammerhead photos, I will leave the hammerhead SW-e in for reference
Pali
toy
-k (Revised) Black straight edge large font, almost always mistaken for SW-b but is clearly not, this is a very soft & thin baggie material & every figure found in this type has the same coo's as palitoy figures found on Palitoy MOC's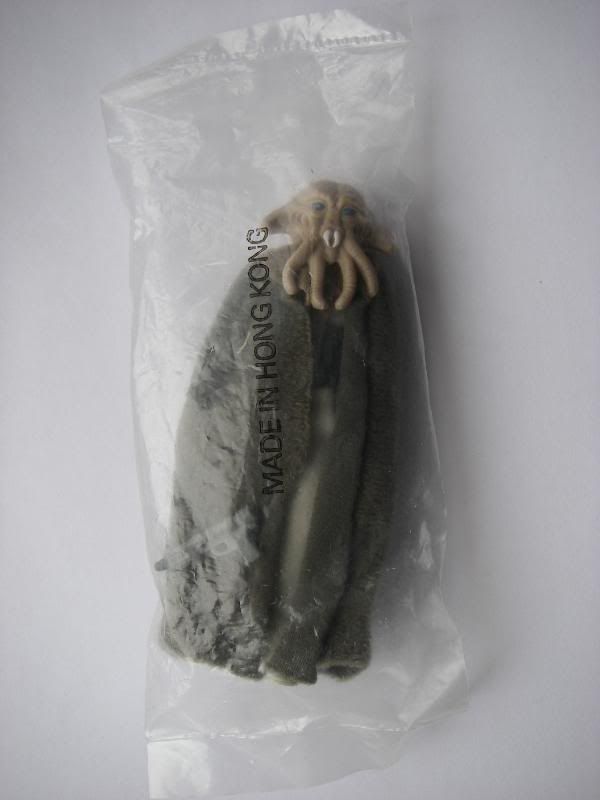 Pali
toy
-l - (tape sealed) dark Blue/Purple Horizontal font/Text - Crisp -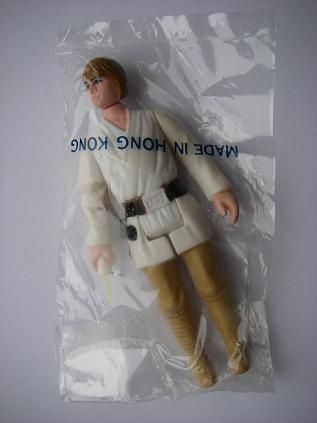 Pali
toy
-m - Dark Blue/Purple Vertical Text/font - Soft -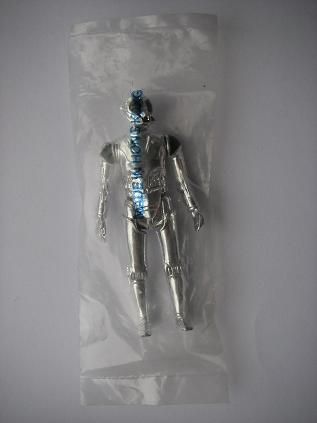 Pali
toy
-n - (Tape Sealed) - Larger Blue/Grey "matt" Horizontal Text/font Crisp -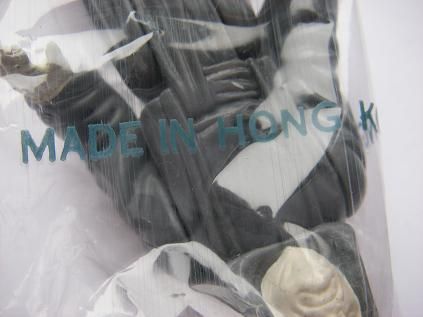 Pali
toy
-o - Thick Black horizontal Text/Font, similar to the Kenner issued SW-d but is IMO NOT the same.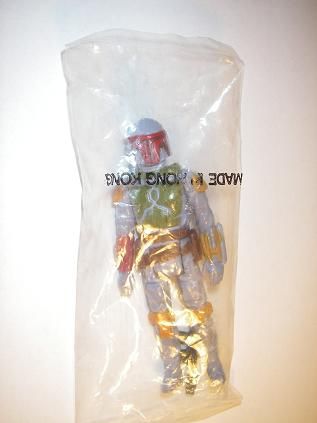 Pali
toy
-p - Thick Black Vertical Text/Font Soft, again very similar to some other baggie types (SW-b & Palitoy-d) But NOT IMO the same-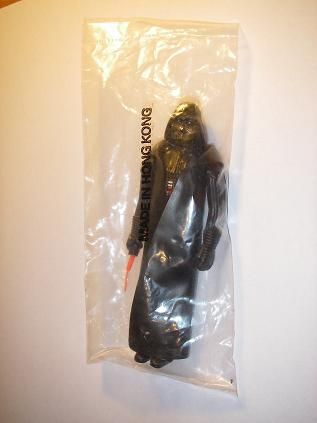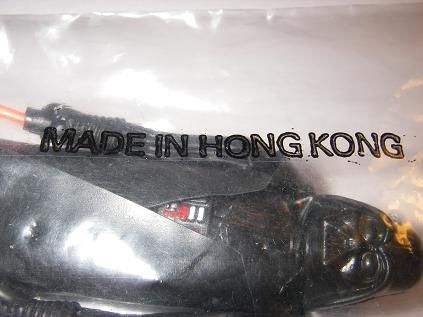 Pali
toy
-q - Made in China Horizontal black text
Pali
toy
-r new addition 29/11/16
PHOTO COURTESY OF MARC CARAWAY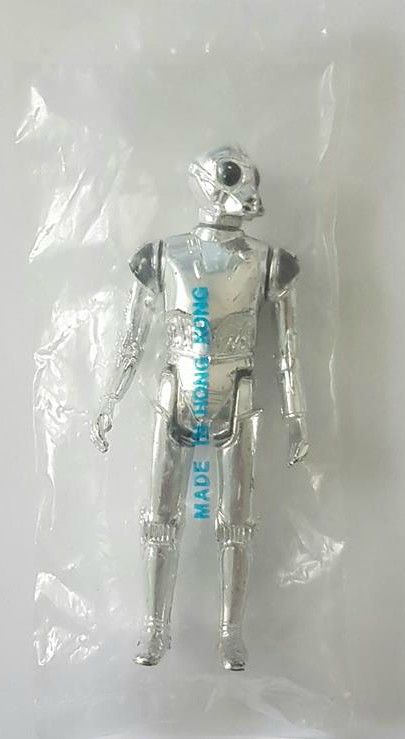 Pali
toy
-u Hoth Rescue Pack no text baggie - thin very soft material
REVISED 20/9/15
Thanks to a great find by our very own
Laurence Dyer
, I am pleased to be able to confirm this baggie was not solely found in the Hoth rescue pack & was in fact a baggie I suspect to be an internal baggie, usually intended for opening for carding (speculation), as Laurence found a good size cash of mostly palitoy issued baggies in a loft find from someone who actually got them all back in the day & has had them stored in a loft ever since, a great find which also confirms that Palitoy had some Kenner issued baggies at the time toward the end of the toy line, so hypothetically speaking, some of the woolies 8 packs that have been found with the odd Kenner baggie included in the lineup (sadly all open examples to date) may in fact be correct.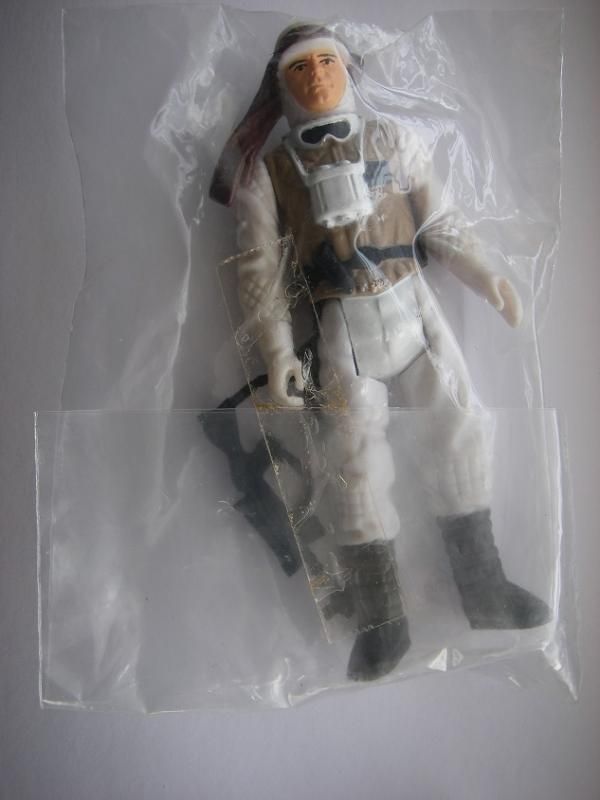 Pali
toy
-v blue/green/grey text thinner font that the N, but same crisp material type & almost the same colour, but heat sealed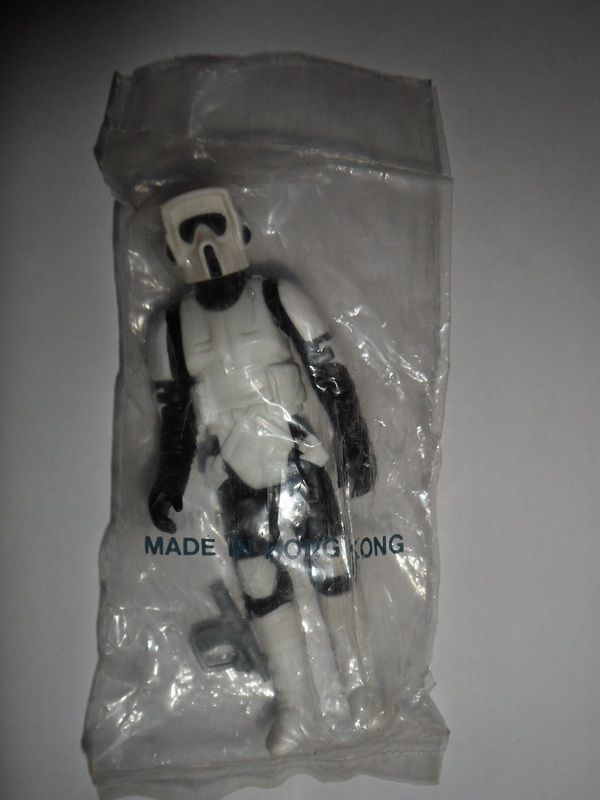 Euro-a – Made in Macau, Horizontal small blue text/font – Crisp -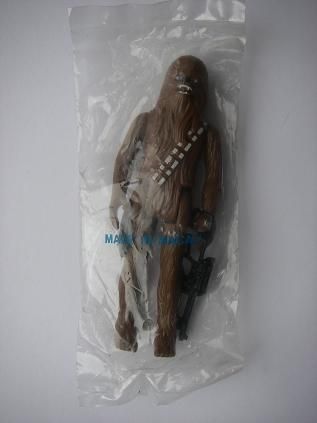 Euro-b - No Text single seal –soft, all found to date have been no COO/Deep Scarred
Euro-c – Made in Macau Black Vertical Text/font
Euro-d – No Text soft – (single heat seal) German YPS Trooper – I think this one is specific to just this one figure, due to it being a special offer item only issued free with the German comic book - soft -
Euro-e/A – Twin Heat sealed – Very soft – no text, these have to date been found with no coo & coo scarred figures previously being sold as meccanos.
Euro-e/B - Twin Heat Sealed - Soft but more rigid that the Euro-e/A's I am at this point "speculating" that these are in fact another another Palitoy baggie type with the figures found in them so far being either MIHK or No Coo, not coo scarred like with the Euro-e/A's & of a different material type -
any help on this baggie type appreciated if you have one as with the Euro-e/A's, as a lot more cross referencing is still needed to confirm this 100%
Euro-f (Meccano) -
PHOTO COURTESY OF - Matthieu Barthelemy
Ex - Euro-g - reclassified type for the Euro-g below (Fat head Han solo pic) as the one directly below is now confirmed fake (more details to follow) but suffice to say it's a made in Reading affair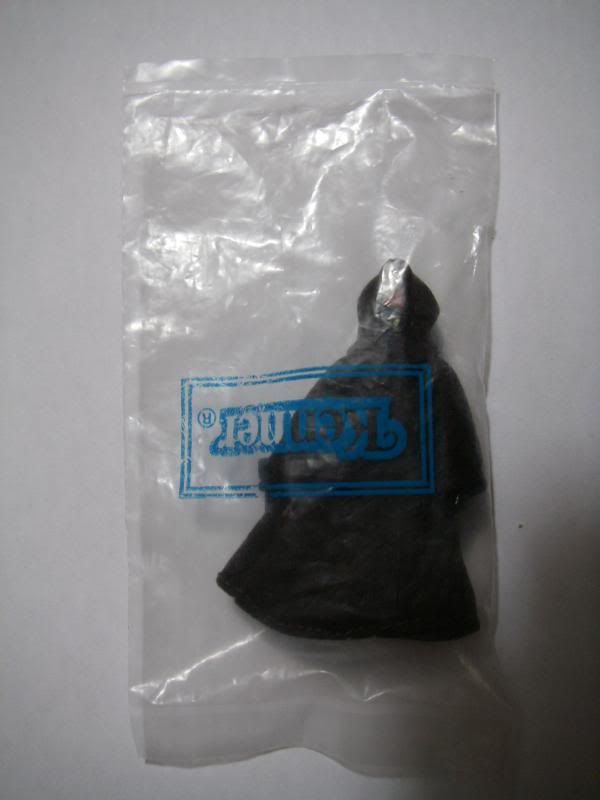 New Euro-g
(new classification 18.10.18)
this baggies has always been considered to be a kenner ESB-h baggie but it varies considerable both in size & in the coo of the figures included & is now confirmed to be of European not United Stares origins, more details to follow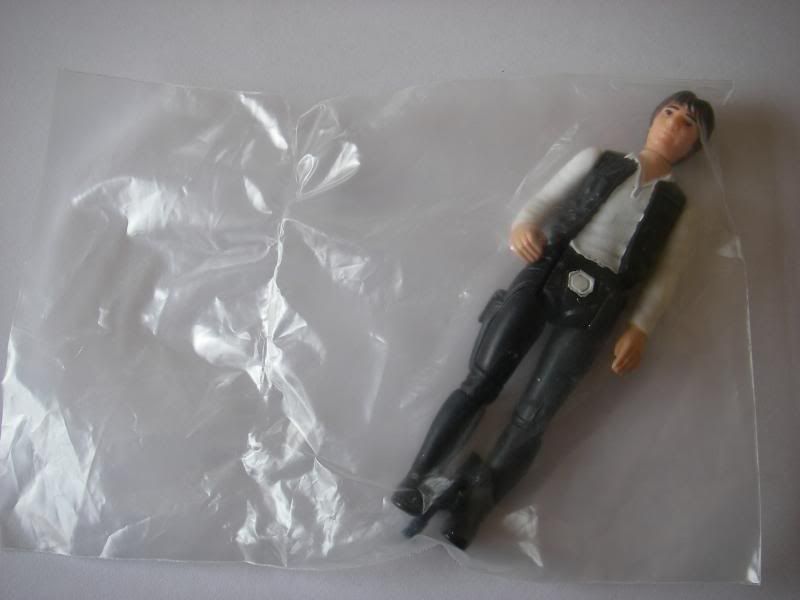 Euro-h -
photoy courtesy of Del
- this is a baggie that rarely crops up & is often considered a fake, it is a genuine baggie though, material is very flimsy & the text usually has a lot of bleed out
Not sure what to make of these TBH, not covered in the SWCA guide & in a way not technically speaking a Euro baggie if you were to judge it by the logo on the baggie (Kenner), but it is not a know US issued baggie, but has been found multiple times around Europe which leads me to the conclusion its a baggie made up in a Kenner production plant with there logo & shipped to one of the European distributors for retail sale, sadly there is from what
I know to date
no other history on these baggie, but enough have surfaced to make me 99.9% convinced that it is indeed a genuine issue baggie type, it has been found both heat sealed & tape sealed, the example shown is heat sealed.
Euro-i / Meccano (Ex Euro-c) - explanation - this was till now considered to be the Euro-c baggie like the clipper Darth Vader shown above, on close inspection they are totally different baggies, Euro-c only has one heat seal at the bottom, the Euro-i is twin heat sealed & the font is noticeably larger, this info updated as of
30/7/16
this baggie was known to have been distributed in France in the free figure when you buy a large vehicle offer (red sticker)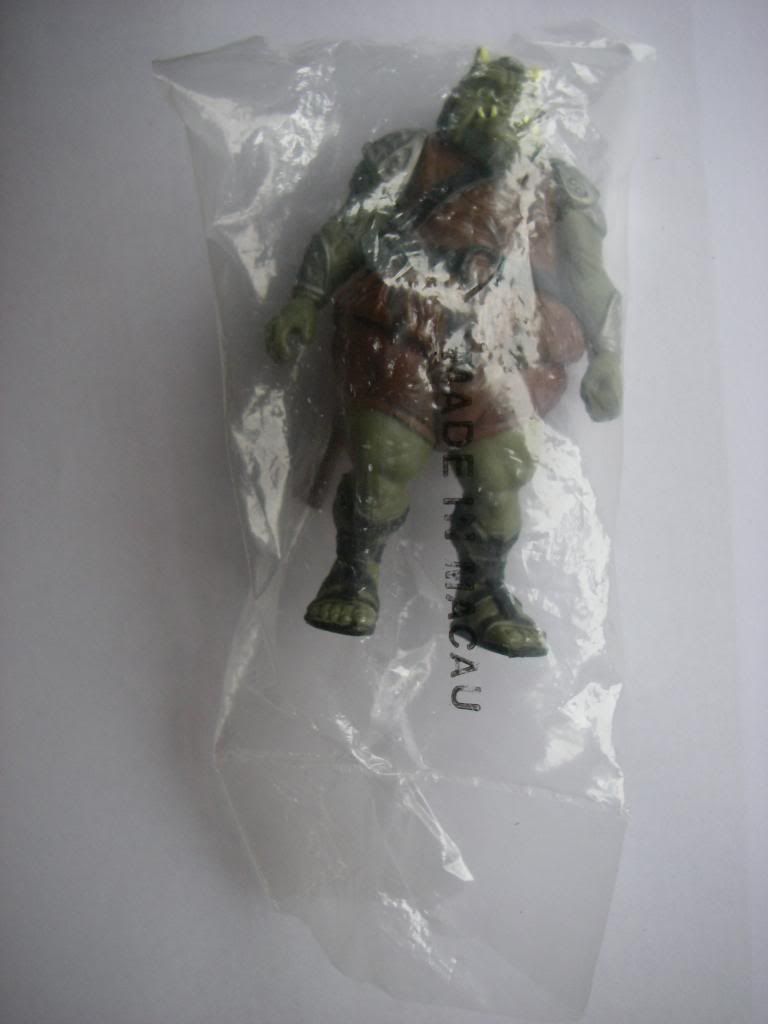 Euro-j again a French issue Meccano baggie, with large defined straight edge's black font, very much like if not the same as the Palitoy-k, can be found both taped & stapled with what would look to be brass staples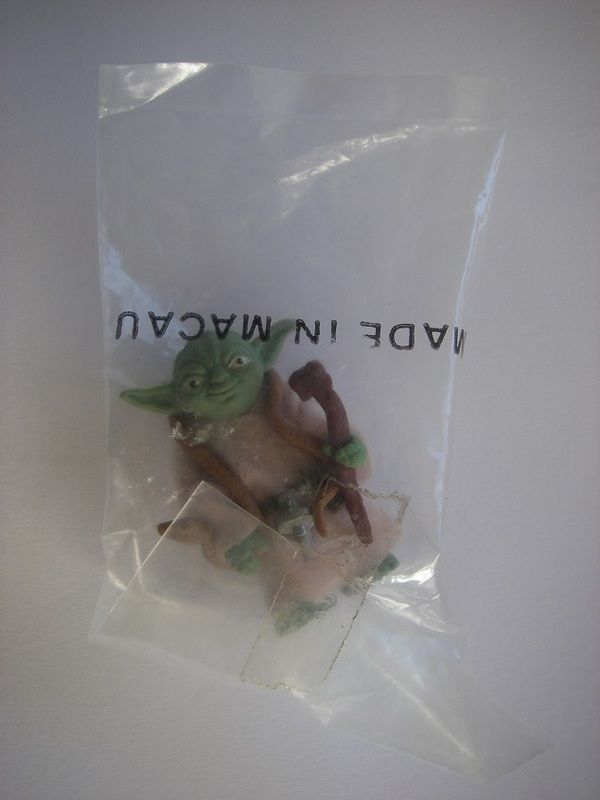 Euro-k - to date a baggie that has been a point of speculation regarding it's authenticity, the mystery surrounding it suddenly became clear when a recent find of red sticker meccano baggies were discovered, it has been one in question as more know examples are part of the meccano free figure offer/promotion (see mane guide for full details) & have a large rectangular red sticker on them which covered the font type on the baggies, glad to put this one to rest & confirm it's authenticity at long last,it is tape sealed & crisp with a blue green large font -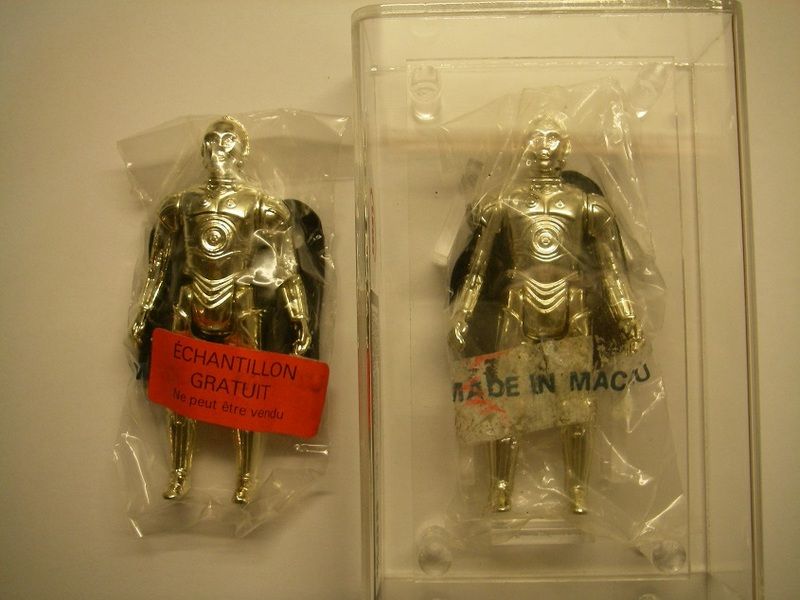 I would like you to consider that this is so far just a preliminary rough guide to the None kenner issued baggies I am familiar with to date, there is also a Macau red text baggie known I believe?, but I sadly do not have a photo, all of the above baggies are part of my own collection & IMO are legitimate baggie types & are ALL still factory sealed, for most of them I have multiple examples to cross reference seal/font/material types & am more than happy to add further photo's on request to back up my finding to date, I would ask that if you have a baggie type that does not conform to any of the ones above or to any known on the SWCA, to please contact me & forward me some info & photos as this is to be a basic matrix for further work so we can actually start to make some sense of the wilderness/mine field that is Euro issued baggies.
I hope this
rough guide
is of some help to others & that we can work together on this as an open ended project.
& remember - you saw it first on SWFUK
RECLASSIFIED
- EX Palitoy-d which is in fact as stated above a Palitoy-k, thinking behind this is that the Palitoy-k was (until now) considered to be era specific & the figure being from the ROTJ period clashed with that (wrong) assumption, seems the Palitoy-k style baggie saw action throughout the toy line all the way from 77 to 85