So who knows there apples from there pears then?, I have been mulling over this question for some time with 2 particular baggie types or should I say 4 in reality??.
IMO there are 2 Palioty baggie types which are overlooked 95% of the time as being Kenner issued ones & IMO 100% of the time when we are talking about the Bobba fett one in paticular.
I did not want to post anything about this till I was 110% sure that what I have considered to be fact actually is fact, this only due to cross referencing many many baggies of this type.
Please look at the photos below carefully & IMO it will become quite clear that what we take for granted regarding baggie identification is not always what it seems.
First up is this Palitoy baggie Darth Vader, SW-b on the SWCA??, no not quite, note the font is much thicker & not quite as defined at the edges as its kenner counterpart -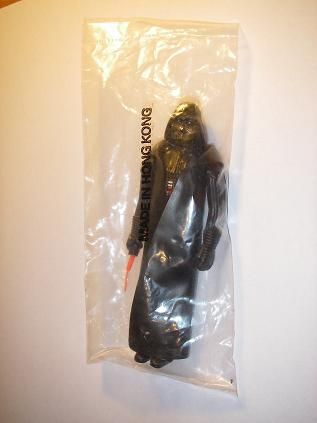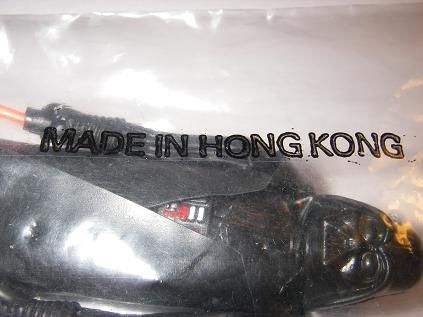 Below is an example of a SW-b issued Kenner baggie with a similar font -
Seems like an open & shut case right?, well not quite as simple as it may seem, even though the baggie materiel is that same & the font is similar, the font type is clearly not quite the same, but its pretty self explanetary when viewed in close detail, that is till you consider the below baggie -
SW-b????? -
The above is what would at first glance IMO be thought of as a SW-b style baggie, as the font colour & format are the same, as is the baggie material type,
But
its a ROTJ issued figure which would never have appeared in a SW-b baggie or far that matter any other SW issued baggie as the production date for this figure would not match by several years, coupled with the fact that this one came from a trusted source that traces directly back to Ex palitoy stock.
Now the one that is the real clincher & IMO the most overlooked & most miss identified baggie out there, the Boba fett mailer baggie(s) -
SW-d issued Baggies that came with early bird brown box multi-packs & also in the single figure mail in "free boba fett offer" -
& Below the one that IMO came with the UK Palitoy issued card front "free boba fett offer" we were accustomed to seeing here in the UK, consider this if you think this is not correct - why are there so few palitoy baggied Fett's in circulation, even here in the UK?.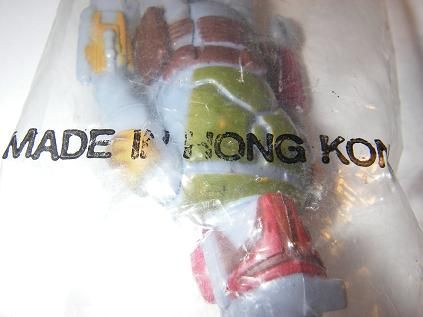 Below a photo of them side by side as a comparison shot & also a photo of the bottom heat seal on both baggies which do not match.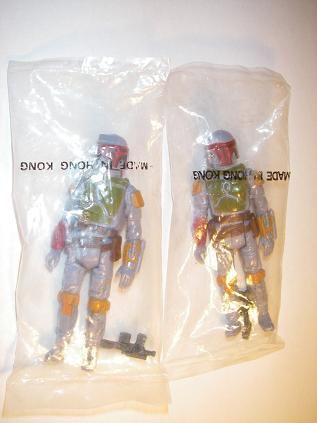 Confused - You will be!
, but I do hope I can go a little way forward in rectifying the overly long term confusion & miss identification of these Euro issued baggies that a lot of collectors seem to either scorn or regard as Kenner issued, which IMO is quite clearly not the case.
Your thoughts would as always be greatly appreciated guys.