So here's my guide for all 96 Kenner Star Wars action figures. I will not include variations, (I don't no either!) this is just meant to be a basic reference guide to which card each figure first appeared on in the USA. This is by no means a guide from my own knowledge, more of a gathering of information from what I have found and other members have corrected from my original post.
Star Wars logo
12 Back-A
Description of all 12 figures with artists impressions, instructions how to use the telescoping lightsaber. Also action figure stand offer is displayed at $2, two POP's. Tie Fighter, X-Wing and Landspeeder pictured.
1)Luke Skywalker
2)Darth Vader
3)C-3PO
4)R2-D2
5)Stormtrooper
6)Death Squad Commander
7)Sandpeople
8)Princess Leia Organa
9)Ben Kenobi
10)Chewbacca
11)Han Solo
12)Jawa 20 Back-B
The eight new figures are pictured above the first twelve. Action figure case, Droid Factory, Creature Cantina, Land of the Jawa's and Dewback pictured. This card Back is virtually identical to the 20 a back, the best way to tell a 20 a from a 20 b is that Luke Skywalker is stood to the left of the picture for the Creature Cantina on a 20 back b. It's interesting that Kenner released a new card back the 20 Back a, without any of the new figures packaged on that card. Credit to aussiejames for correcting this.
13)Walrus Man
14)Power Droid
15)Greedo
16)Luke Skywalker (X-Wing Pilot)
17)Snaggletooth (Red)
18)R5-D4
19)Hammerhead
20)Death Star Droid 21 Back-A
Card back shows the first 21 figures, Action Figure Case, Droid Factory, Creature Cantina, Land of the Jawa's and Dewback.
21)Boba Fett
Empire Strikes Back logo
31 Back-A
First 31 figures appear on reverse, along with pictures of Snowspeeder, Imperial Transport and Millennium Falcon.
22)Princess Leia Organa (Bespin Gown)
23)Luke Skywalker (Bespin Fatigues)
24)Han Solo (Hoth Battle Gear)
25)IG-88
26)Hoth Stormtrooper
27)FX-7
28)Bespin Security Guard (White)
29)Bossk
30)Lando Calrissian 31 Back-B
Same as 31A but the toys pictured are Hoth Playset, Star Destroyer and Vader Case.
31)Hoth Rebel Soldier 32 Back-B
The same as a 31 Back b with Yoda pictured to the upper left corner. Slightly different play sets, Hoth Playset, Star Destroyer and Darth Vader Case.
32)Yoda
41 Back-A
Front of the card has the survival kit offer and the back shows all 41 figures with the action figure survival kit offer at the bottom of the card.
33)Dengar
34)At-AT Driver
35)Imperial Commander
36)Han Solo (Bespin Outfit)
37)Princess Leia Organa (Hoth Outfit)
38)Lobot
39)2-1B
40)Ugnaught
41)Rebel Commander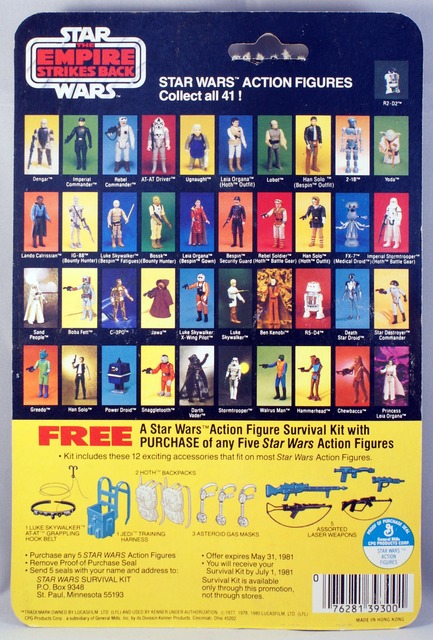 45 Back
Display arena offer on the front of card. The back also has display arena offer at the bottom of the card. All 45 figures are pictured on a yellow background. Note there is only one version of the 45 Back and there is at least one known example of 4-Lom packaged on this card.
42)AT-AT Commander
43)C-3PO (With Removable Limbs)
44)Luke Skywalker (Hoth Battle Gear)
45)R2-D2 (Pop Up Sensorscope)
46)Cloud Car Pilot
47)Bespin Security Guard (Black) 47 Back
Free 4-Lom offer on front of card. Note there is only one version of the 47 Back and Tie Fighter Pilot and Zuckuss are the new editions to the reverse. Also worth mentioning there are hardly any known examples of Zuckuss on this card, I personally consider his debut card to be the 48 Back-A
48)Tie Fighter Pilot
49)Zuckuss 48 Back-A
The back of the card shows 48 figures and pictures of AT-ST, Tauntaun, Wampa, five mini rigs and Rebel Transport. There is a known example of 4-Lom on a 47 back card. But sticking to the first card he appeared on the front and back it's the 48 Back a.
50)4-Lom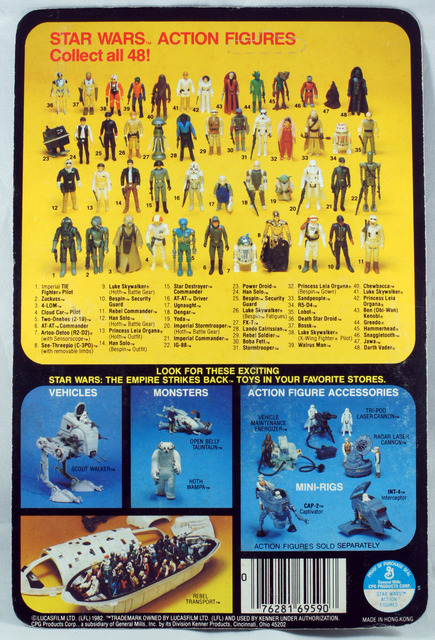 Return Of The Jedi logo
65 Back-A
Logray and Chief Chirpa are blacked out. The back also shows pictures of Bandoleer Strap, Y-Wing and C-3PO Case.
51)Admiral Ackbar
52)Luke Skywalker Jedi Knight
53)Bib Fortuna
54)Biker Scout
55)Chief Chirpa
56)Klaatu
57)Logray
58)Weequay
59)Squid Head
60)Ree-Yees
61)Rebel Commando
62)Nien Nunb
63)General Madine
64)Lando Calrissian (Skiff Guard Disguise
65)Princess Leia Organa (Boushh)
66)Emperors Royal Guard
67)Gamorrean Guard 77 Back-A
Reverse of card shows 77 figures and pictures of Rebo Band, Ewok Glider, Ewok Catapult and Rancor.
68)B-Wing Pilot
69)8D8
70)AT-ST Driver
71)Nikto
72)Prune Face
73)Rancor Keeper
74)Teebo
75)Wicket
76)Han Solo (Trench Coat)
77)Princess Leia Organa (Combat Poncho)
78)The Emperor
79)Klaatu (Skiff Guard Outfit) 79 Back-C
Anakin offer on the front and printed Anakin offer on the reverse of card.
80)Paploo
81)Lumat Power Of The Force Logo
92 Back
Note R2-D2 has a pop up lightsaber and Yak Face does not appear on the back.
82)Luke Skywalker (Battle Poncho)
83)Anakin Skywalker
84)Romba
85)Barada
86)EV-9D9
87)Lando Calrissian (General)
88)Warok
89)R2-D2 (Pop Up Lightsaber)
90)Luke Skywalker (Stormtrooper)
91)Amanaman
92)A-Wing Pilot
93)Imperial Dignitary
94)Imperial Gunner
95)Han Solo In Carbonite
96)Yak Face