So you've seen this thread is about Bend-Ems and haven't run away, a good start
Hi, i'm a long time lurker, first time poster and I want to talk about Star Wars Bend-Ems!!
Hoping there's someone else out there that likes or is collecting this line?
I know they get a bad rap from some folks, but I just love this line. The artwork, the ace Star Wars Galaxy Cards, the coins. For many like me that were born after the movies had left the cinema and missed the first kenner toys being ubiquitous in toy aisles, this was our first taste of SW merchandise and will forever hold a special place.
I got the Darth Vader / Luke Skywalker / R2-D2 / Emperor 4 Piece gift set for Christmas of 1994 and I was over the moon - my very first Star Wars figures. With the new Kenner's on the horizon in 1995, they slowly moved to the discount stores, which was great news for me. A local chain called "Options" stocked them and every friday when we would do the weekly "Big Shop" at the supermarket on the same shopping centre I'd race round eagerly to see who was in and who i would pickup with my pocket money. In the end i had 14 of the 20 figures. I never did see Boba Fett, Lando, Luke X Wing, Gamorrean Guard and that awesome Vader Carry Case in the flesh, but I remember spending hours looking at the cardbacks at all the figures and dreaming of a complete set.
In the intervening almost 30 years I've had two kids who both love Star Wars and both played with those very same now much more worn Bend-Ems (well at least until they saw how great the new figures are in comparison!). I've always toyed with the idea of starting to collect and get a full set of the line, they are readily available and inexpensive on eBay. With Lockdown, i was bored and curious (a combination that has admittedly gotten me into a lot of trouble over the years) and decided to take the dive. Honestly its been a great pastime. I've really been enjoying it. The Topps Galaxy Cards and the Coins also add another element to it, its really a great line. There are also SOOOOOO many variants.
Here's my collection as is (minus the variants), I've more pictures on my twitter if you wish to see them -
https://twitter.com/SWBendems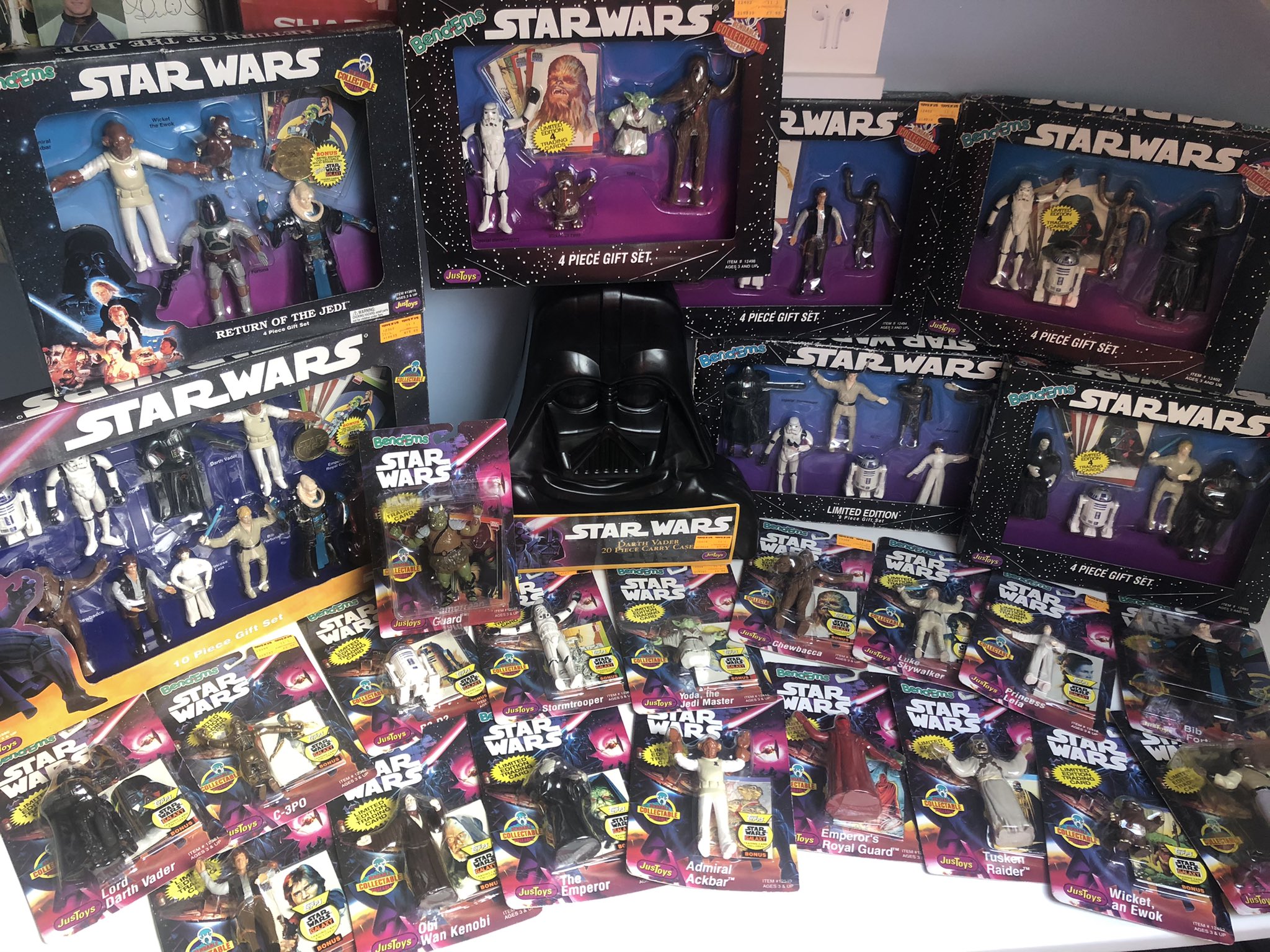 My current goal is for a complete set of one of each character and gift set, and i'm not far off that - Happy to say Boba Fett is in the mail, meaning i'm one away from a complete set of the 20 characters. So, if any of you have a Luke Skywalker in X-Wing Pilot gear for sale - hit me up!
But i'm interested to hear from you guys, anyone collect these? Anyone have fond memories of these?
Also i've been delving through old usenet posts from the time (i know i need help!) to find some interesting tidbits about the mail away cards offer on the back of packs and sets that were to come out that never did! Apparently there were two additional 4 Packs set for release in Diaroma style packaging, themed around Jabbas Palace (containing Salacious Crumb, Sy Snootles and Leia in Boussh gear) and the Cantina (containing a Jawa, Greedo and a Cantina Band Member) - i know a prototype of the Jawa exists and have seen photos but is anyone aware of the other unreleased figures having prototypes existing and also were there any pictures of these sets? (They were apparently at Toy Fair 1995).