Grand Master

Joined

Sep 5, 2007
Messages

5,590
Location
General Issue Vehicles & Playsets
As well as offering special offer items that included baggies Kenner/palitoy etc also offered sets that were widely available which included action figures as standard as a way to entice folks to buy items that may well not have sold as well had they not been offered due the the limited playability of some of them.
Pali
toy
Land of the Jawas
- included a Palitoy-a or sometimes though rarely Sw-a
PHOTO FROM GOOGLE IMAGES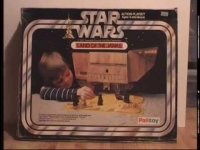 Jabbas Dungeon
playset 1st issue, 8D8/Nicto & Klaatu Skiff in ESB-c baggies
PHOTO FROM GOOGLE IMAGES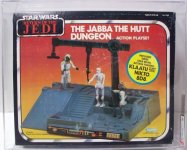 Jabbas Dungeon
playset 2nd issue, Barada,EV-9D9 & Amanaman in ESB-c's
PHOTO FROM GOOGLE IMAGES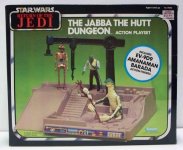 Cloud City playset
, Lobot/Dengar/Han Bespin & Ugnaught ESB-d's
PHOTO FROM GOOGLE IMAGES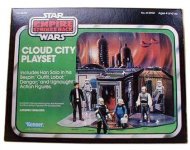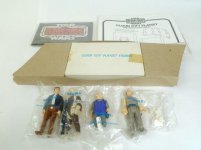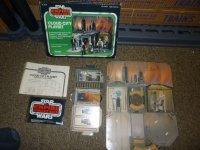 Rebel Command Center
(Adventure Set) At-At Commander & Luke Hoth in ESB-d with R2 sensorscope in ESB-c
PHOTO FROM GOOGLE IMAGES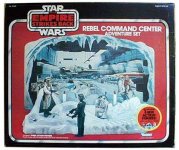 Sy Snootles & the Rebo Band
, there is a tri logo & a Kenner version available with baggies, one version with Black vertical font Palitoy baggies, the much more common version having no text baggies
PHOTO FROM GOOGLE IMAGES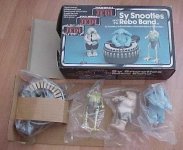 Not sure how many variations there are for this set exactly (blister pack aside), but below is the one I have seen most frequently with everything together in a larger bag with the black font, "possibly" the same size & type baggie used for the woolies 99p 8 packs - speculation ??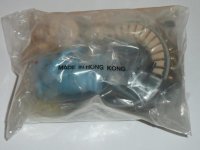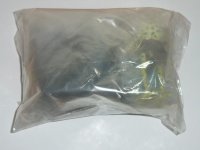 Hoth Adventure
POTF Line, Luke Hoth & Han Hoth usually in Palitoy-a's or Palitoy-u baggies, oddly usually one in each type, but can be either in each type, though I have to date never seen a set with both the figures in the same baggies IE both A's or U's
PHOTO FROM GOOGLE IMAGES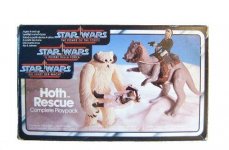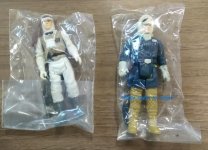 Endor Chase
POTF line, 2 X Biker Scout/Wicket & Leia Poncho, have seen this set with various baggies types & can not confirm exactly which are correct, but are Palitoy baggies either Black Vertical or Blue Horizontal font.
PHOTO FROM GOOGLE IMAGES
Additional (4.10.21) - So now I have seen this set with 2 main configurations in terms of baggies included in the set

1. Leia Ponch - black vertical font baggie, sometimes open 1 end, sometimes taped & the same font as a kenner ROTJ-j, but a Palitoy issue, this baggie is to dat unclassified in the guide(s)
2. Wicket in Kenner ROTJ-c or more likely ROTJ-h
3. BS's in either Palitoy-u or kenner ROTJ-h
These were found in a larger tape sealed baggie, we assume they could be the same size baggies used for the woolies 99p 8 packs but are unable to 100% confirm this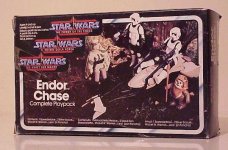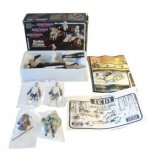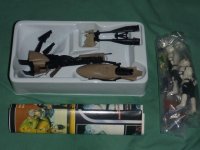 Ewok Combat Catapult
POTF Line, has been found with all baggies & a mix of baggies & folded over MOC's included & now also with all carded, there seems to have been very little in the form of consistency by the time these were issued, not sure of baggie type, but assume Palitoy's
PHOTO FROM GOOGLE IMAGES
sadly no other images of the ones with baggies in as yet - if you have one please do LMK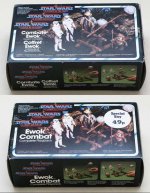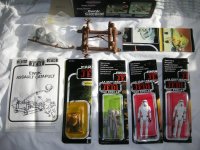 Last edited: