Joined

Jan 16, 2016
Messages

4,620
Location
England, Tottenham and Chelsea legend Jimmy Greaves has died aged 81. The greatest goalscorer this country has ever produced, his records in the game have stood for decades, and will take quite some beating!
When I was young, I first came to know him through 'Saint and Greavsie', the ITV football show, and it wasn't until later that I learned that both he and Ian St John had been great footballers, rather than simply football TV show presenters
A very funny and witty man, he forged a career on TV in addition to 'Saint and Greavsie', appearing on various shows, including 'TV-AM' as a TV critic, where I remember him ripping mercilessly into Michael Praed for leaving 'Robin of Sherwood' where he was an action star, to join 'Dynasty' where he played (as he termed it) a 'prannie'
. I still laugh when I think about it to this day!
Rest in peace, Greavsie.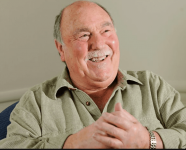 Last edited: