So i was at the Museum of Modern Art in Edinburgh this afternoon. Checkin out the art, as you do and we came across this recreation of a famous Scottish sculpter's workshop. It was filled with loads of finished and half finish sculpts but also lots of random toys and collectables. Some robots, some board games and 2 vintage Star Wars action figures. As i only had my camera phone with me the picture of the first is impossible to see so you'll have to take my word for it. The 2nd is much clearer.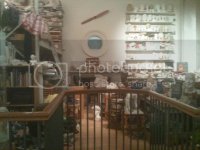 So the first one actually took me a while to spot. I spotted the 2 larger figureds first which i noticed straight away were from the A-Team line (both the same figure. The bad-guy with the eye patch) and to their left just barely visible from how far back we were (couldn't go any close) was a vintage Wicket figure with head-wear but no spear. You may just be able to make out the blur in this pic.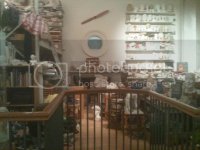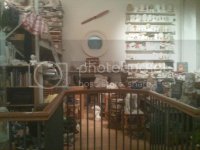 And after about 5 minutes looking, right in front of me in a box was a Gamorrean Guard figure poking out of a box of junk.