Hey, i think we may have had a thread on here about this tho i can't find it. I have posted quite a few of these spots over at another forum and thought it might be fun to devote a thread to it over here.
If you know of any other films/tv shows with vintage SW toys, post pics or PM me with what film/TV show etc and i'll find pics.
BBC News Segment on Stormtrooper Laurie Goode (2014/TV/Web)
[Spotted by BlueDog]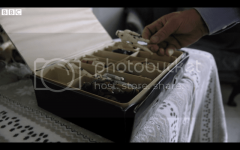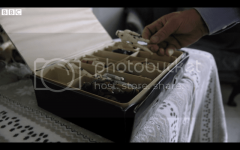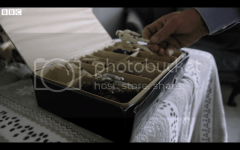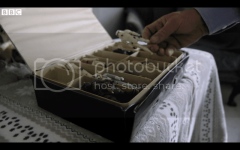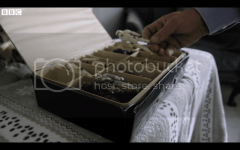 So Graham Norton (1999/TV)
[Spotted by BlueDog]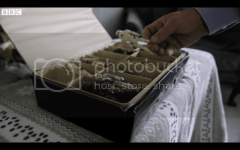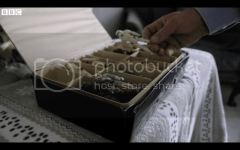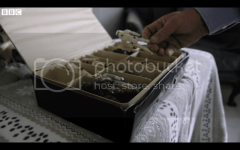 Elbow - New York Morning (2014/Music Video)
[Spotted by mumbo]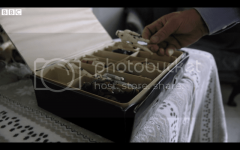 Labor Day (2013/Movie)
Drama set in 1987 starring Kate Winslet and Josh Brolin.
Star Wars figures visible on a kid's in an early scene.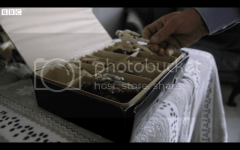 A little later a better view of a whole bunch of vintage figures as the kid reads on the floor.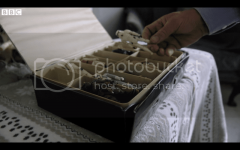 The Way Way Back
(2013/Movie)
Spotted by tundra9
Set in modern day but a young boy in the movie is into vintage SW toys and is seen in one scene playing with a Hoth Leia and a Bespin Luke.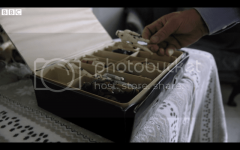 He's seen again later in the dark, playing with what looks like a Boba Fett, tho it's very difficult to make out and possibly a Vader in the other hand then when the shot moves away from him and then comes back, he's holding what looks to be a Stormtrooper.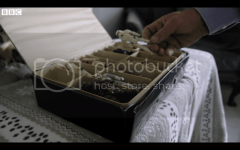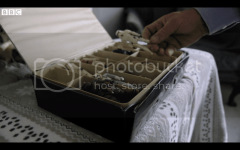 Cagney & Lacey: 'I'll Be Home for Christmas' (1982/TV)
Spotted by chazb73
A quick glimpse of a wall of carded ESB figures in a toy shop including Luke Hoth and Black Bespin Guard. I believe the figure on the bottom right is C3P0. Can't quite make out the others.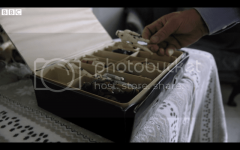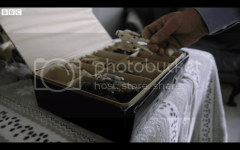 Pawn Stars S06E32 (2013/TV)
On a recent episode of Pawn Stars a guy brings in a box of vintage Star Wars MOCs to sell.
The guys who work there pick up a 12 back Darth Vader, mad-handle it, wave it about a bit (almost definitely damaging it in the process)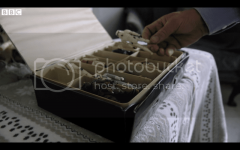 Here he waves it about in front of his friends face joking "i am your father". The way he holds it on the outer edge with his fingers kind of using the weight of the figure as a pivot to wave it (fan like) i'd say there's a 90-95% chance he damaged it. Tho the "owner" didn't bat a eyelid.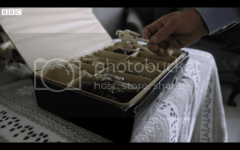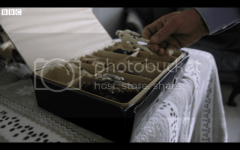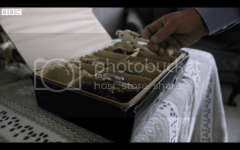 Among the MOCs, a french, Mecanno 'Guerre Des Étoiles' Vinyl Cape Jawa.
He is asking $11,000 for the entire collection.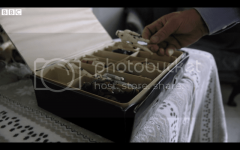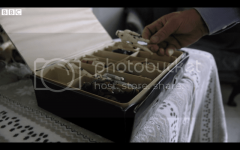 They then get an expert in to take a look at the collection. Help them validate and value it. He explains that you have to be very careful as lots of fakes and recards are out there. Especially with the valuable VC Jawa MOC. So he picks it up, smells it, turns it, smells it again and confirms that is is indeed real. lol I must say that's a new one for me.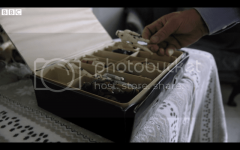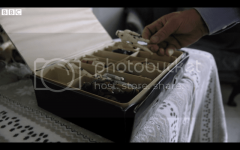 After some haggling the man is offered $7,000 for the collection which he accepts.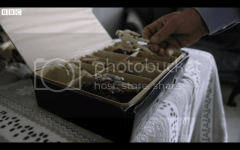 Argo (2012/Movie)
[first spotted by Capetown]
In the very final scene of the movie, set in 1979, Ben Afleck's character reads his son to sleep in a room strewn with vintage sci-fi toys, posters and other adornments.
In the first shot, as well as a Star Wars poster and bed-spread, you can see some shelves with various vintage Star Wars (and other- Battlestar Gallactica, Planet of the Apes, Star Trek) toys.
Here you can see a 12" Han Solo, a Millenium Falcon and 11 of the 'first 12' on their display stand (C3P0 missing. Did anyone spot where he was hiding?
)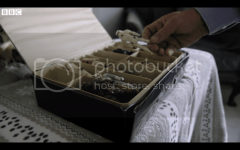 The camera then pans across the main shelf showing several 'first 12' figures. (you see Luke Farmboy [not in this shot], Jawa, Vader, Ben Kenobi, Death Star Commander, Stormtrooper & Sandperson)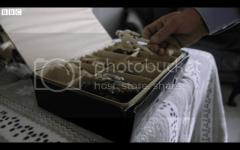 Next a shot of an X-Wing.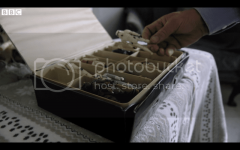 Then a much clearer shot of the 'first 12' on their stand. (minus C3P0)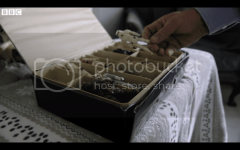 Next a shot of a 12" C3P0 (not the missing 'first 12' figure
), The wing of a Tie-Fighter, The top of a Dewback and the cockpit of a Tie-Fighter on the right.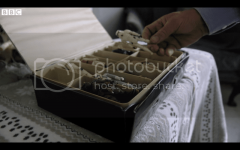 A 12" Boba Fett.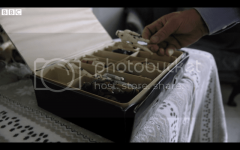 And lastly a shot of a 12" Darth Vader. Below him you can just see the roof of the Millenium Falcon again.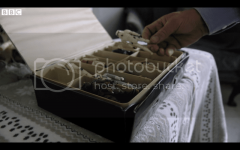 Buffy the Vampire Slayer - Season 6 Episode 9 (2001/TV)
[spotted by Spoons]
Spike intimidates some geeks by threatening to rip the head off their vintage Boba Fett.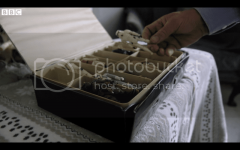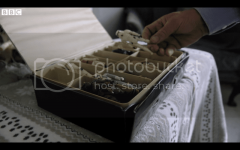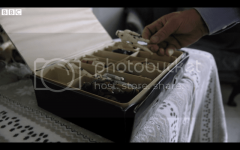 The geeks get their toy back unharmed.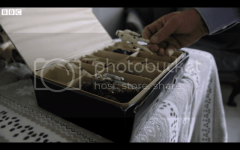 American Pickers S04E14 "Boys Toys" (2012/TV)
The pickers, Mike and Frank, visit a guy with a huge toy robot collection.
Behind the guy's door a Darth Vader and a cantina band member sit on the shelf. (possibly not vintage)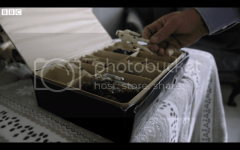 Hanging from the ceiling is a Tie-Fighter, an X-Wing and a Cloud Car.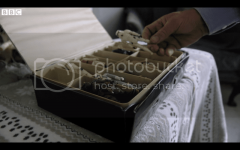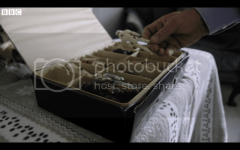 A replica Stormtrooper helmet on the shelf.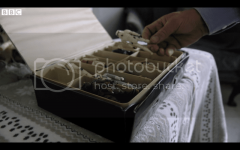 Some kind of R2-D2 toy sits in the cabinet. (not sure exactly what it is. Vintage?)
'The Matt Lucas Awards' (2012/TV)
[Spotted by Spoons]
A british chat/game show hosted by Matt Lucas with 3 celebrity guests.
In this show each guest has to display an impressive but completely useless skill. Mark Wootten choses to identify vintage Star Wars figures by touch alone.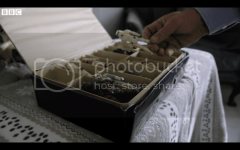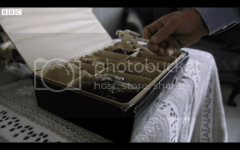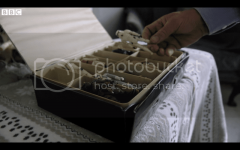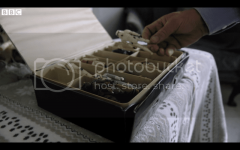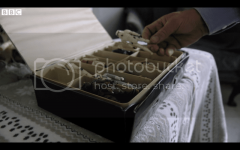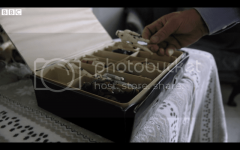 'Hero of the Day' - Metallica (1996/Music Video)
[Suggested by Dave Tree]
A vintage Rancor sits on the boys television set. In Metallica's music video for 'Hero of the Day'.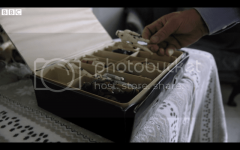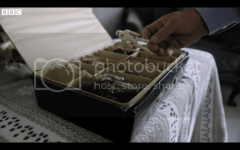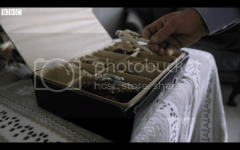 Without a Paddle (2004)
[found by Bluedog (Ryan)]
Seth Green and Matthew Lillard examine a C3P0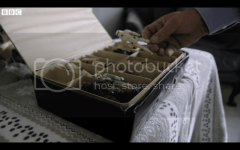 Storage Wars (2011/TV)
A program where people bid on abandoned storage lockers and attempt to profit on what they find.
In this particular episode a guy discovers several boxes full of vintage toys, boxed and unboxed, in a locker he just purchased, including several Star Wars toys.
They discover the box of toys back at their store.
A Snow-Speeder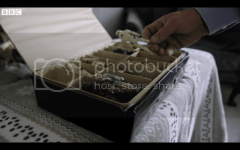 An X-Wing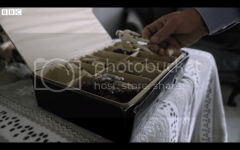 A Taun-Taun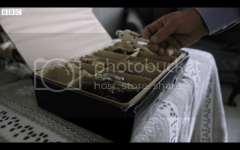 Jabba Play-Set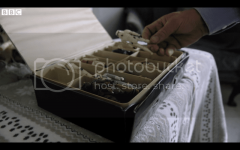 A carded POTF Amanaman and several loose figures.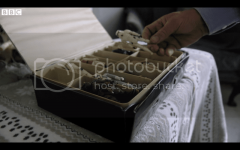 Then they take the figures to be appraised by a comic book/toy shop owner.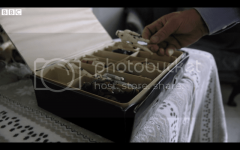 for any Mego/Super hero toy enthusiasts out there, they also found these in the locker worth a total of $8,000.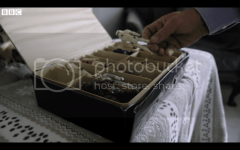 Super 8 (2011)
Tie Fighter hanging from the ceiling.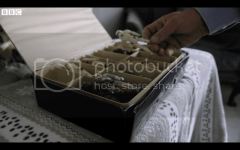 And on the shelves, some kind of publication. "Star Wars
Spectacular
"??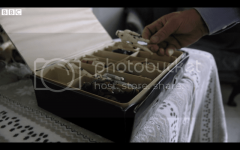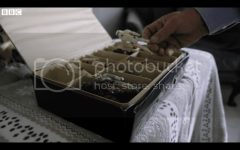 Threads (1984)
An obscure 80's TV movie about a nuclear war and in the fallout a guy sits in the street playing with some SW figures. Creepy movie.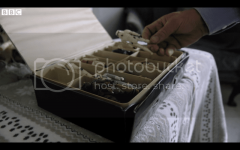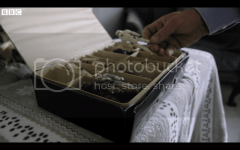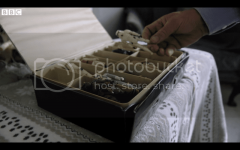 Silent Night, Deadly Night (1984)
Here's some vintage SW in an obscure 80's horror b-movie. You can quite clearly see boxed Jabba's plus a few other bits and pieces.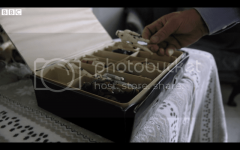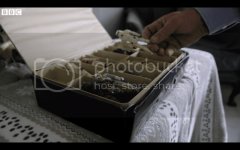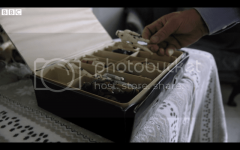 Here's another shot from that same film. Quite cool cos you can see a Luke 'gunner pic' ROTJ moc just to the right of the woman's head. 8)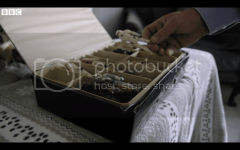 Poltergeist (1982/Movie)
Here are some shots from Poltergeist where various vintage SW can be seen.
A box on the shelf. ESB...?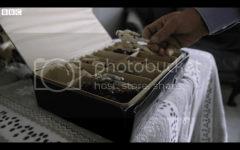 Toy blaster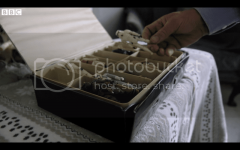 A Taun Taun a Luke Farmboy, a Han Solo and an FX-7. (there appears to be another figure lying down, a Stormtrooper by the looks of it but i can't be sure).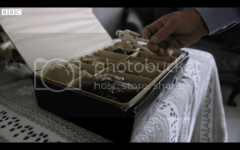 A box again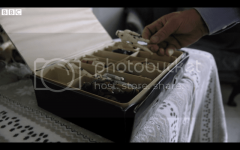 Loose Luke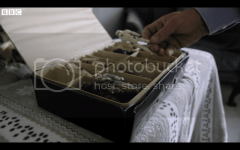 Additional Poltergeist scenes submitted by Twofoot.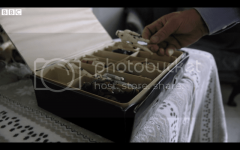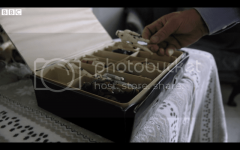 E.T The Extra-Terrestrial (1982/Movie)
Elliots room is strewn with Star Wars toys. In almost every nook and cranny you can spot something or other.
Elliot playing with Hammerhead and Greedo.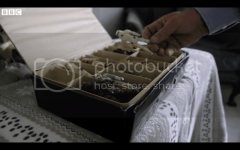 Elliot showing E.T a Red Snaggletooth.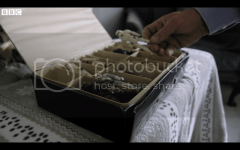 Various loose figures on the table.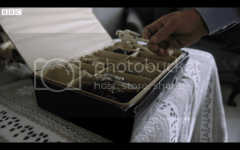 A Tie fighter and FX-7 on the shelves.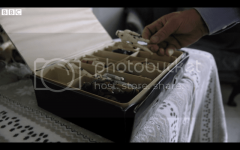 A Taun-Taun on the shelf.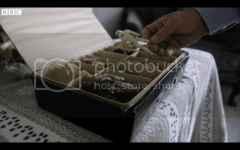 Hoth playset.
Ship hanging from the ceiling,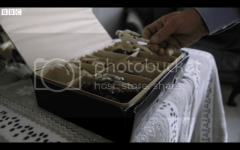 Darth Vader's Star Destroyer.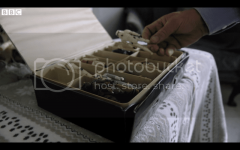 An X-Wing.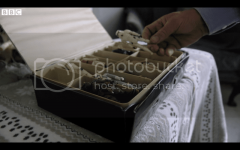 Freaks and Geeks (1999/TV)
Been watching the excellent cult teen drama/comedy which is set in 1981. Many references to Star Wars and other 80s films and TV and finally in episode 15, some vintage Star Wars toys in one of the kids bedrooms.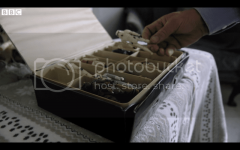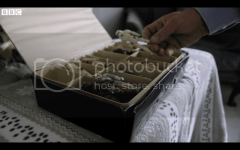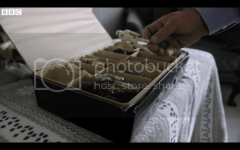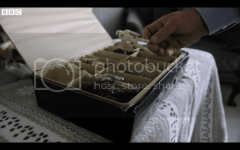 Married With Children (1987-1997/TV)
Submitted by Jedi534