There's Eight Hammerhead figures in total to showcase here, four euro NO COO and four of their HONG KONG predecessors...
Family I...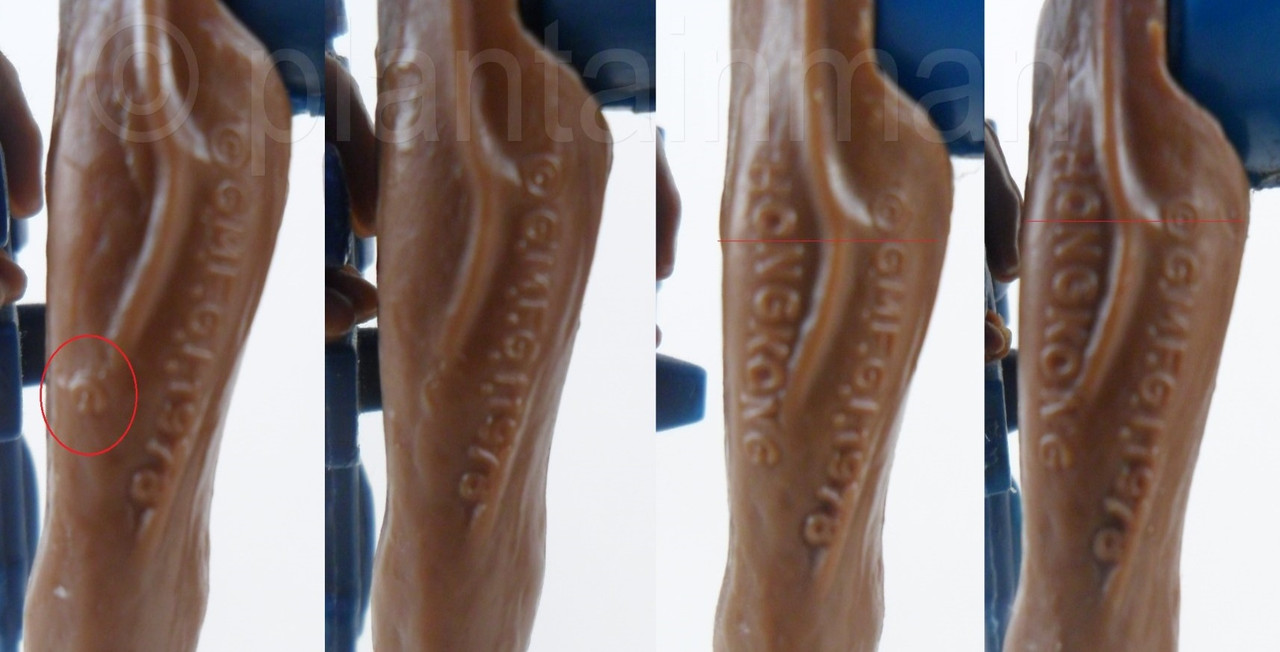 L > R, Euro 'G remaining', Euro scar, HK low, HK high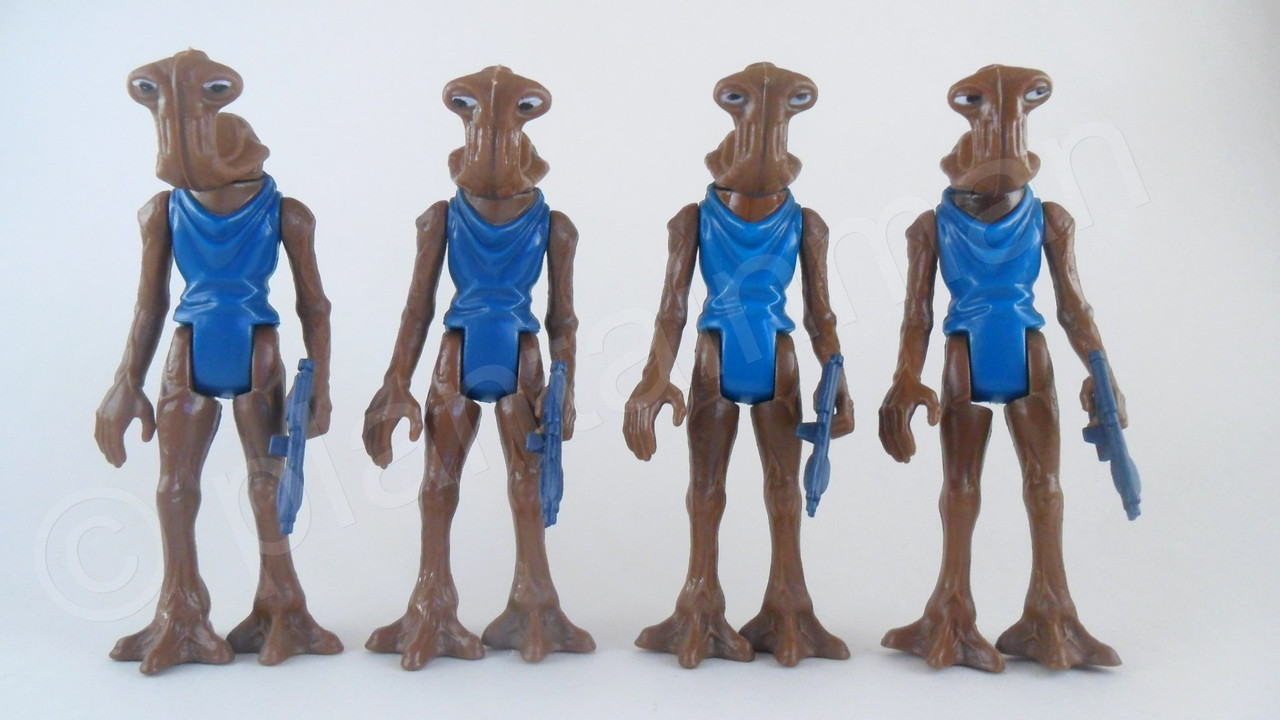 Family II...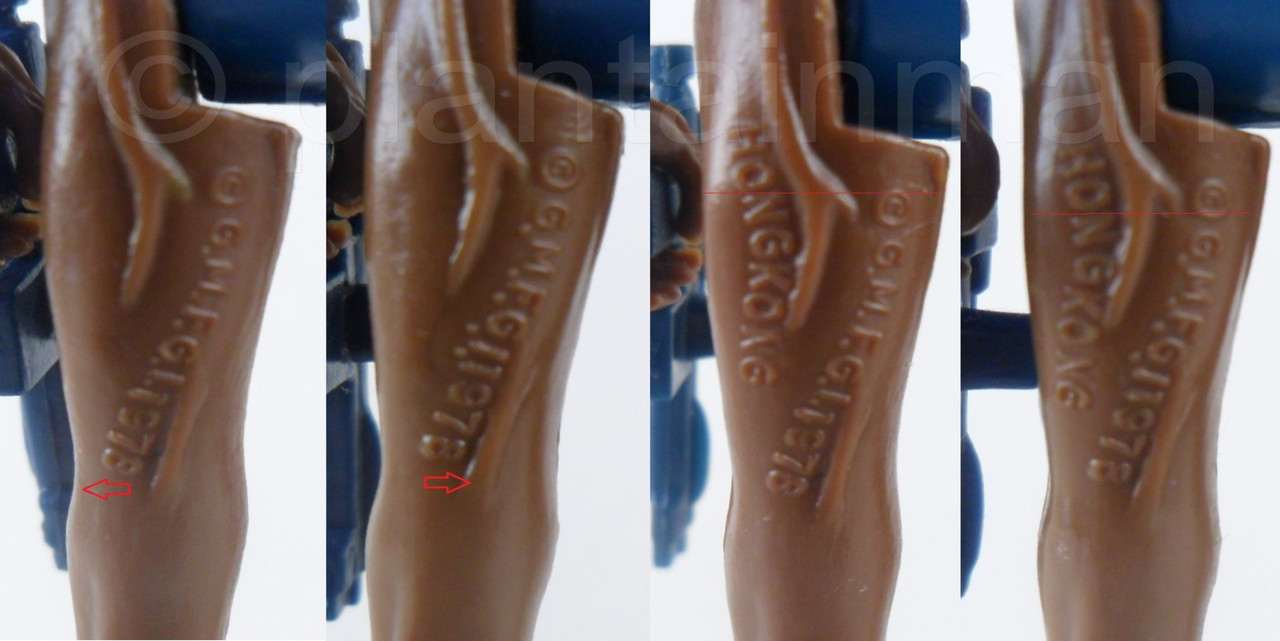 L > R, Euro NO COO left align, Euro NO COO right align, HK high, HK low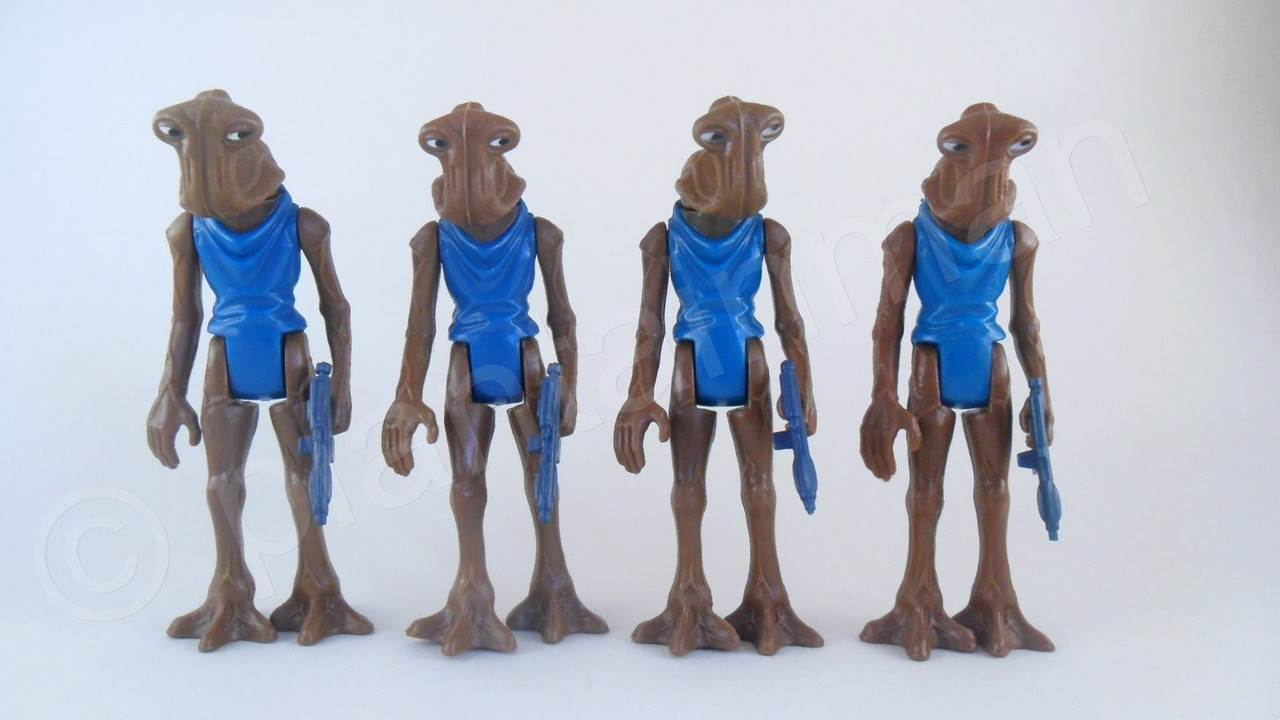 Differences between the two families; Family II has a finer detailed sculpt...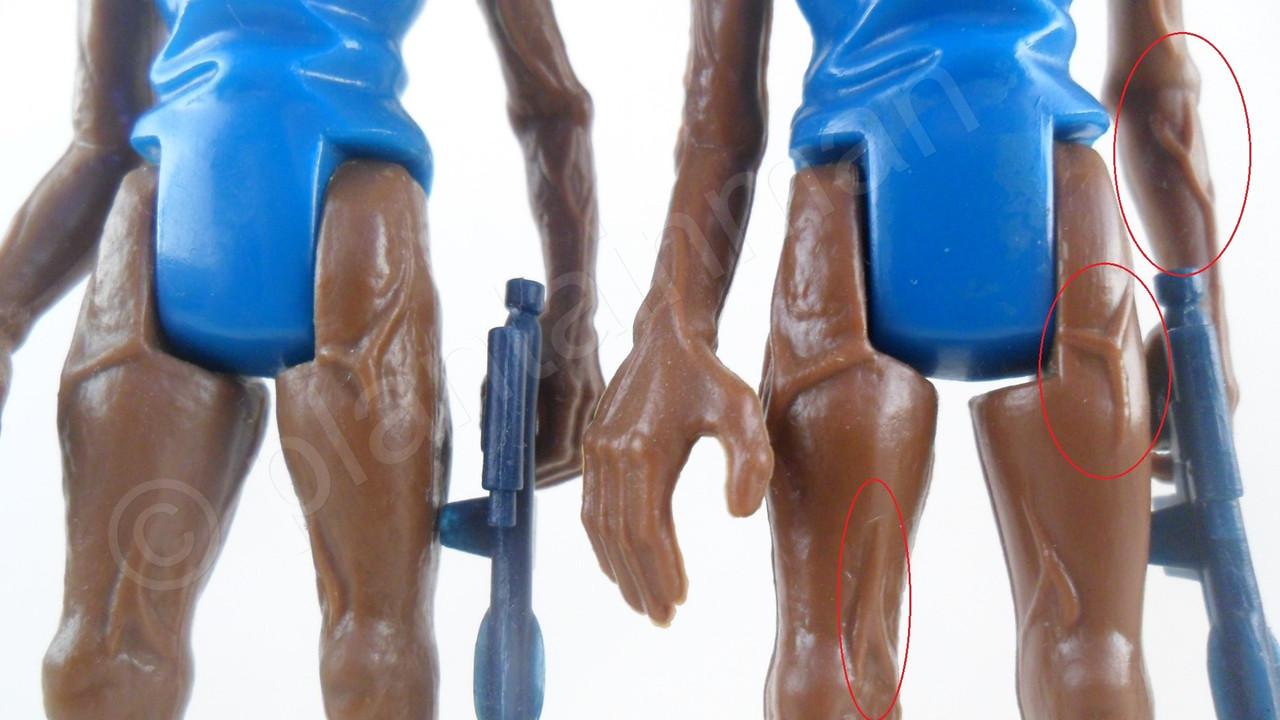 The brown applied to the torso to match the skin colour can vary...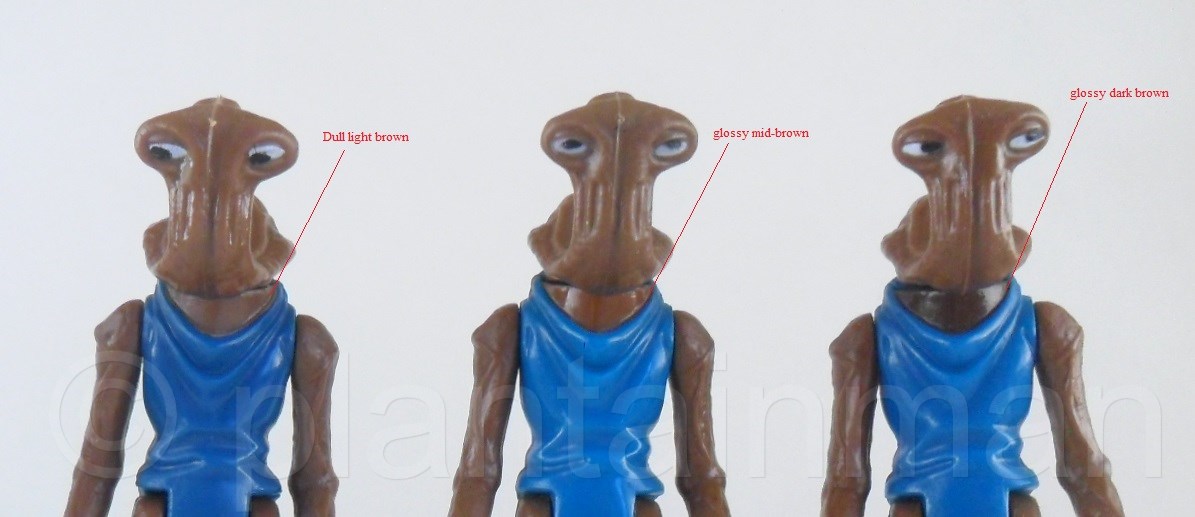 Four eye combinations, Clockwise from top right, Eyes down, Eyes left, Eyes up, Eyes right...
Group shot of all 8, L > R Family I to Family II...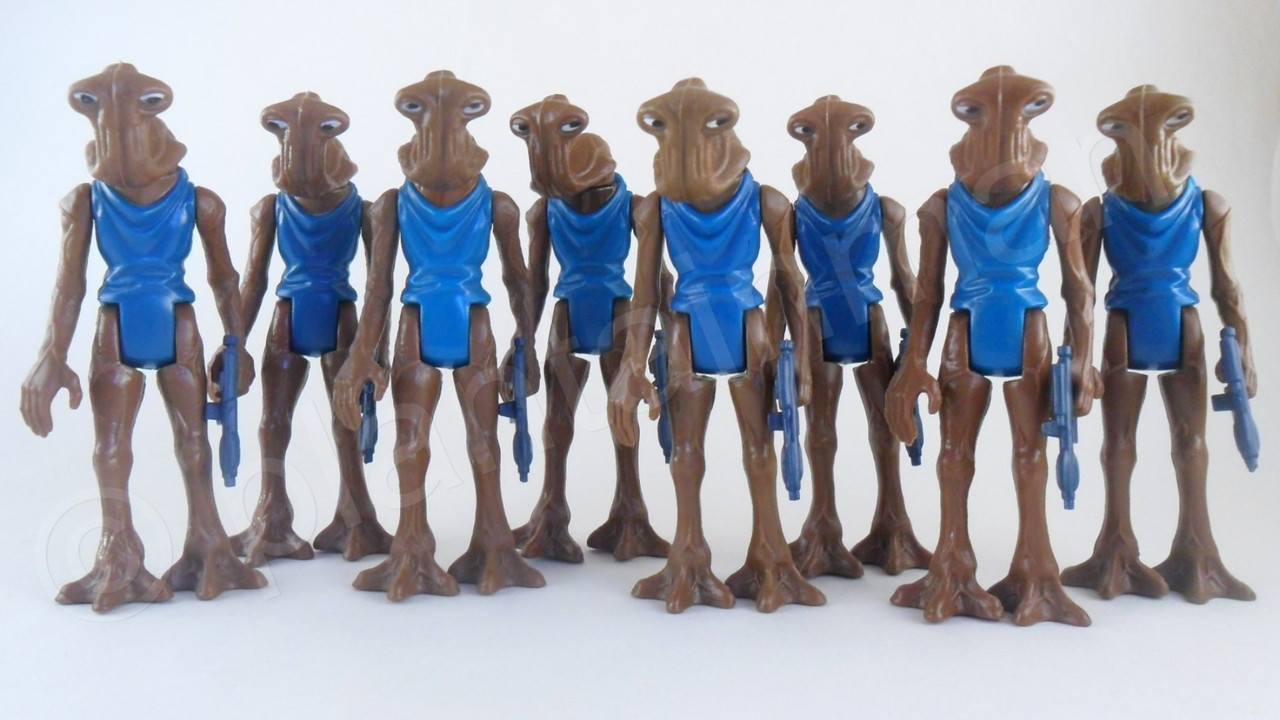 The Euro scar figures have a darker, more royal blue torso compared to the more aquamarine colour of the HK torso's.
The Euro scar figures come with blue PBP imperial blasters with the 'bar' underneath the clip
All of my Family II figures have 'eyes left'; It is only in family I that I personally have noticed a wide variety of eye variations.
Has anyone got a lot of different 'eyes' in family II in their collection?
cheers, Neil
----------------
Links :
WALRUS MAN GUIDE
|
RED SNAGGLETOOTH GUIDE
|
HAMMERHEAD GUIDE
|
GREEDO GUIDE
|
LUKE BESPIN GUIDE
|
HAN SOLO BESPIN GUIDE
|
OBI WAN KENOBI GUIDE
|
DARTH VADER GUIDE
|
BOBA FETT GUIDE
|
DENGAR GUIDE
|
IG-88 GUIDE
|
4-LOM GUIDE
|
LUKE X-WING GUIDE
|
IMPERIAL COMMANDER GUIDE
|
AT-AT COMMANDER GUIDE
|
AT-AT DRIVER GUIDE
|
LUKE HOTH GUIDE
|
REBEL SOLDIER GUIDE
|
LEIA HOTH GUIDE
|
HAN SOLO HOTH GUIDE
|
ADMIRAL ACKBAR GUIDE
|
NIEN NUNB GUIDE
|
BIKER
SCOUT
GUIDE
|
REBEL COMMANDO GUIDE
|
Any discussion is welcomed