Luke Hoth COO Guide
COO Guide...
Top row, left to right, Fam I L1b R1b, Fam I L1b R1a, Fam II L1a R1a, Fam II L1b R1b
Bottom row, left to right, Fam I L2a R1b, Fam I L2b R1a, Fam II L1a R2a, Fam II L1b R2b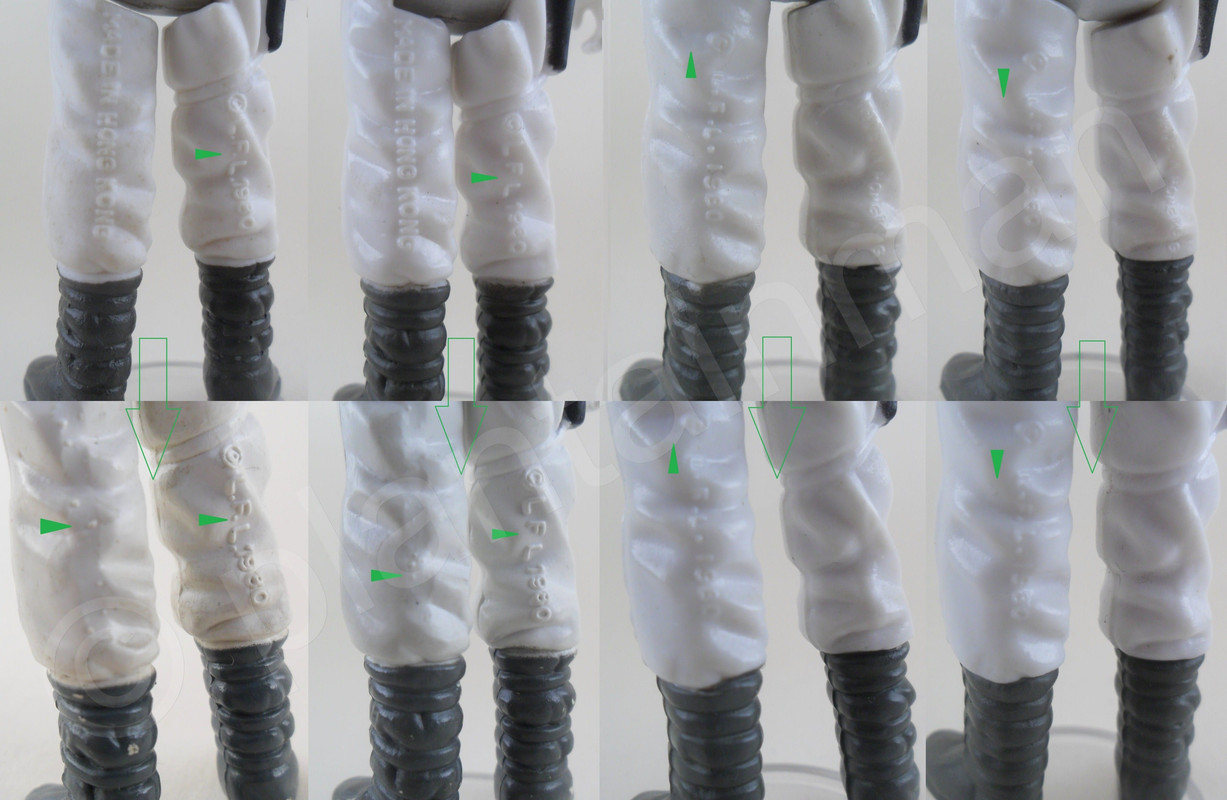 Both HK Fam II on the left, Both HK Fam I on the right,
The HK fam I figures have distinctive scarves which are a more reddish tone compared to the darker brown tone of the HK fam II figures. As you can also see, the facial paint tone and scheme can vary too. The difference in goggles is obvious too for telling the families apart.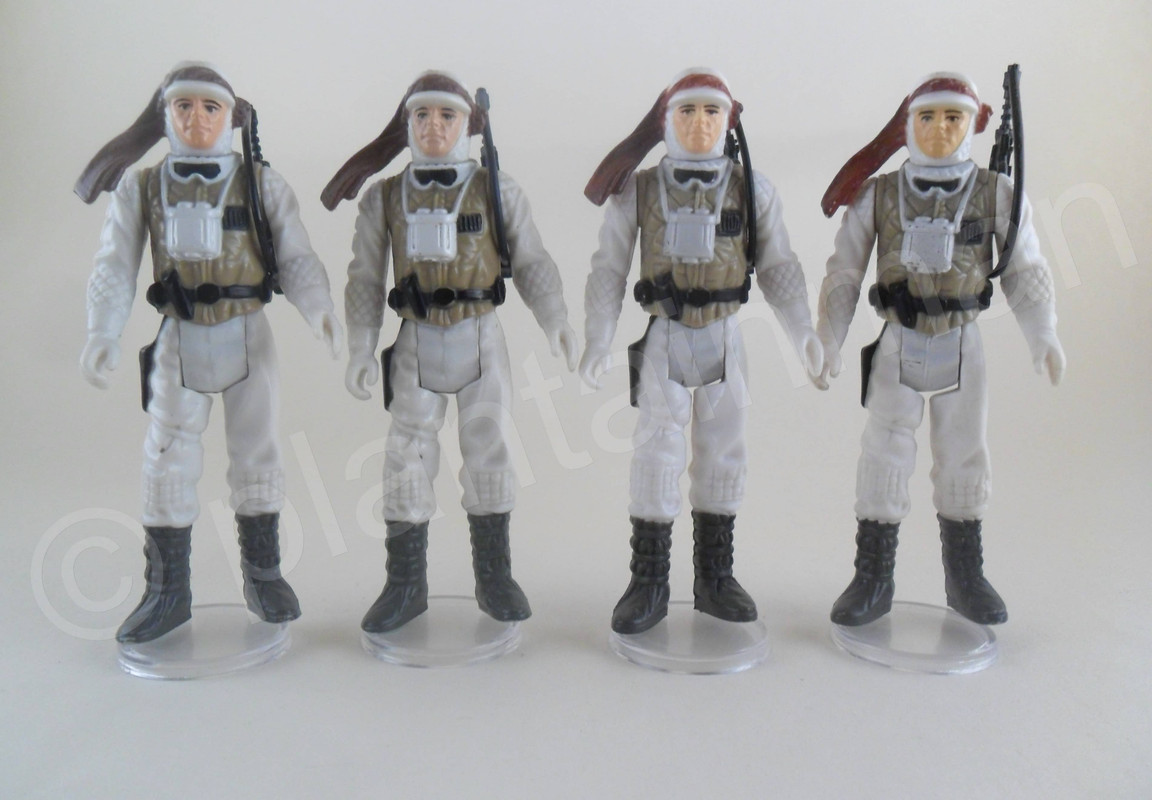 Left to right, Scarred 'Meccano' Pink face, Scarred PBP pale face, Fam II smooth NO COO1 (R2a), Fam II Smooth NO COO2 (R2b 'G remaining more prominent')
As you can see my Meccano pink face has unpainted scarf and unpainted back belt, which can be a quirky perk to some of these Euro produced figures. The pink face paint applied to the Meccano Luke Hoth is the same as was applied to the True pink face ATAT Commander.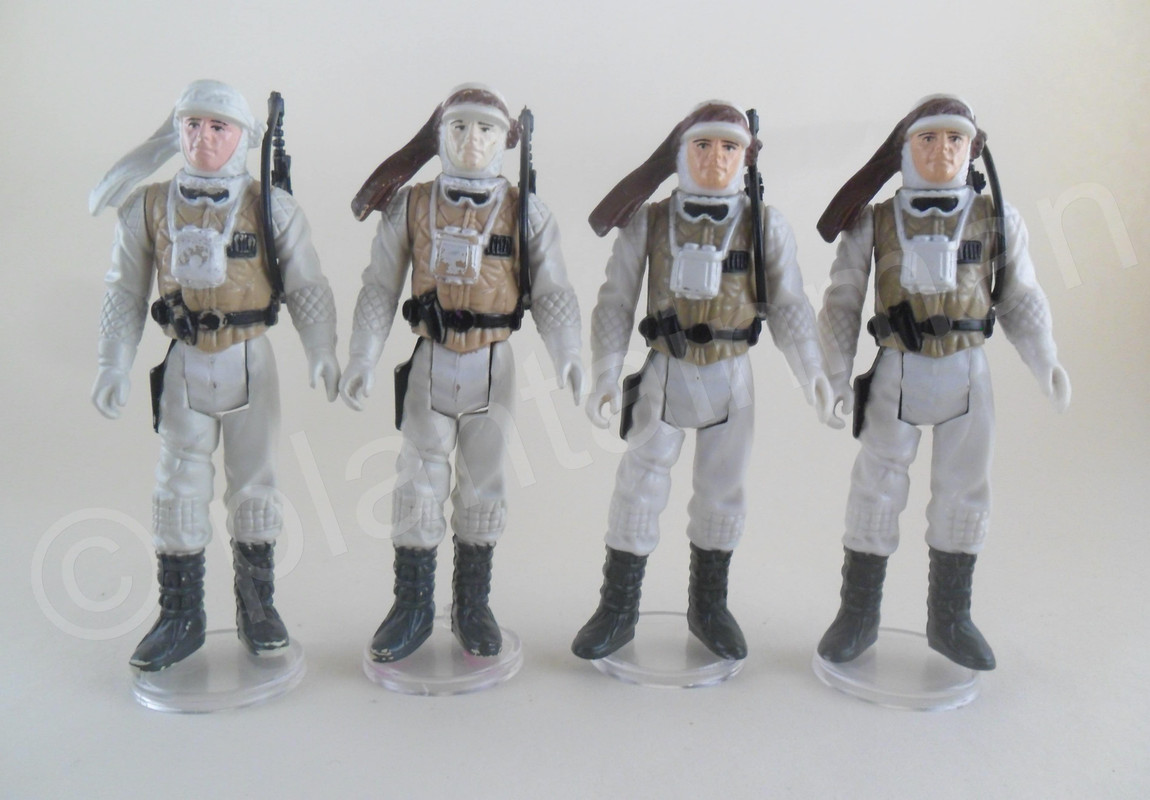 On this shot, You can clearly see the three different colours of Luke's jacket on the NO COO figures...
Group shot of all eight, Four HK on the left, Four NO COO on the right.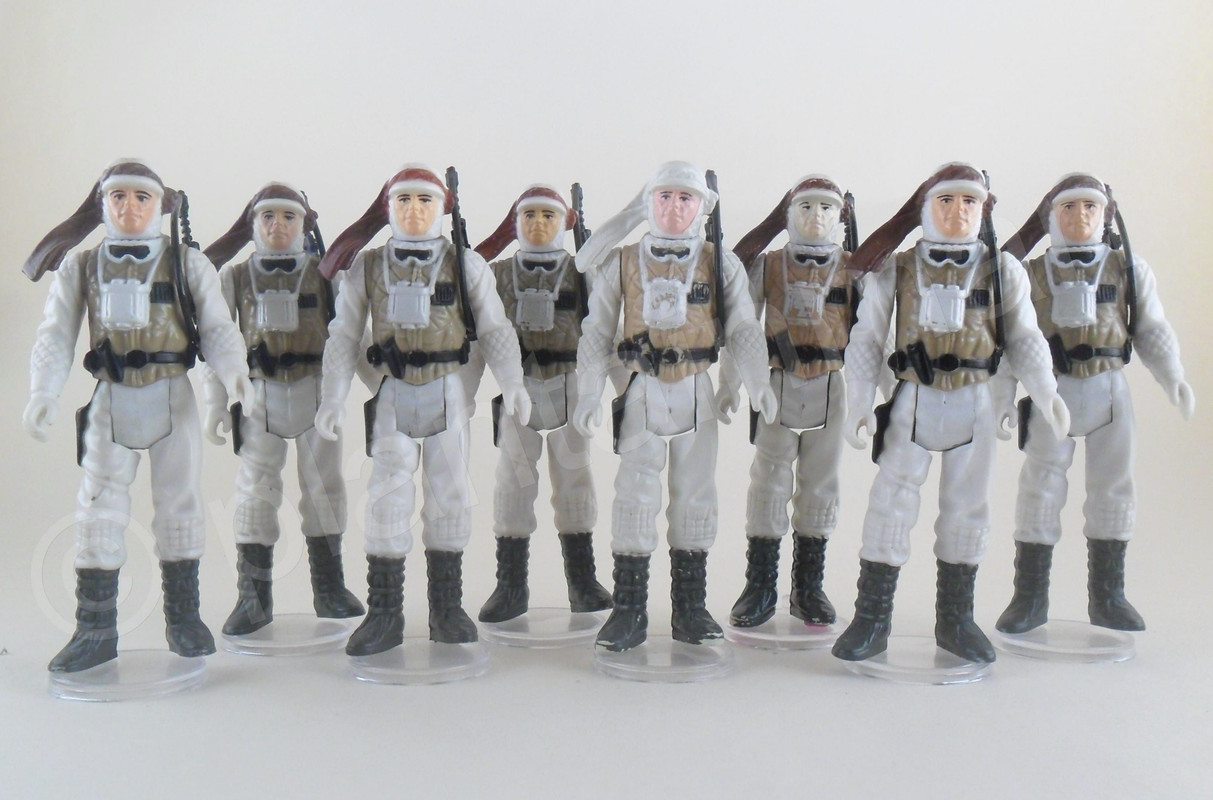 -----------------------------------------------------------
Links :
WALRUS MAN GUIDE
|
RED SNAGGLETOOTH GUIDE
|
HAMMERHEAD GUIDE
|
GREEDO GUIDE
|
LUKE BESPIN GUIDE
|
HAN SOLO BESPIN GUIDE
|
OBI WAN KENOBI GUIDE
|
DARTH VADER GUIDE
|
BOBA FETT GUIDE
|
DENGAR GUIDE
|
IG-88 GUIDE
|
4-LOM GUIDE
|
LUKE X-WING GUIDE
|
IMPERIAL COMMANDER GUIDE
|
AT-AT COMMANDER GUIDE
|
AT-AT DRIVER GUIDE
|
LUKE HOTH GUIDE
|
REBEL SOLDIER GUIDE
|
LEIA HOTH GUIDE
|
HAN SOLO HOTH GUIDE
|
ADMIRAL ACKBAR GUIDE
|
NIEN NUNB GUIDE
|
BIKER
SCOUT
GUIDE
|
REBEL COMMANDO GUIDE
|
Any discussion is welcomed